SOME EXTRACTS FROM THE
RECORDS OF OLD LISBURN
AND THE MANOR OF KILLULTAGH.
-- -- --
Edited by JAMES CARSON.
-- -- --
XXXIII.
-- -- --
FROM THE "LISBURN STANDARD."
28th December, 1895.
(Condensed Extracts.)
Some years before the sad turmoils of 1798, and long afterwords, Mrs. Kelly, who resided in a house at the head of Bridge Street, kept a shop for the sale of books and stationery. She was also proprietor of a lending library. The historic camp of Blaris was then the quarters of five or six hundred soldiers, and that increased demand for farm produce, etc., gave new life to Lisburn markets. Among the best clients of Mrs. Kelly were the rank and file quartered at the camp.
In the course of the month of December, 1835, James S. Major, who then managed the grocery and hardware concern in Bow Street, and of which his uncle, Parker Major, was proprietor, issued a circular addressed to the principal merchants and other traders of the town, requesting them to meet at he King's Arms Hotel -- John Moore proprietor -- to consider the propriety of reducing the then long hours of business houses. From seven o'clock in the morning till ten at night was the usual period of labour. J. S. Major proposed that the hour of closing should be eight o'clock, and, after considerable discussion the resolution was passed.
In January, 1836, the idea of forming a News-room was introduced, and a committee formed, of which William Graham was chairman, John Millar, treasurer; and Hugh M'Call, secretary. The original subscribers numbered eighty-four.
LISBURN NEWS-ROOM. 1836.
Names of Original Subscribers.
| | |
| --- | --- |
| John Chapman. | William Halliday. |
| John Millar. | John Roberts. |
| George Pelan. | Henry Mulholland. |
| John Sitherwood. | Alex. Williamson. |
| William Graham. | Henry Bell. |
| John Jefferson. | John Pennington |
| Richard Jefferson. | Jonathan Boomer. |
| Thomas Beckett. | Thomas Gillespie. |
| Parker Major. | J.R.Baxter. |
| James S. Major. | John Lawson. |
| Hugh M'Call. | F. H. O'Flaherty |
| John Reid. | George Stephenson. |
| Adam M'Clure. | Felix Powell. |
| John Sefton. | John M'Lachlin. |
| John Hicks. | J. Bradshaw. |
| George Boomer. | William Elliott. |
| J. Hennessy. | Henry Bayley. |
| H. J. Mauley. | William Barbour. |
| Rev. Mr. Killen. | Robert Neill. |
| William Shane. | Hugh Nevin. |
| George Major. | William Fulton. |
| John Moore. | Rev. E. Leslie. |
| C. W. Alderdice. | Francis Weldon. |
| Edward Gibson. | Dr. C. Cupples. |
| Henry M'Carry. | Dean Stannus. |
| James Thompson. | William Gregg. |
| H. B. Magee. | John Macrecy. |
| James Magee. | John Hanlin. |
| Alexander Bell. | Dr. Weatherhead, |
| James Patterson. | William Hunter. |
| John Woods. | Gilbert White. |
| William Hicks. | Robert Mussen. |
| John Gillen. | William Caldbeck. |
| Henry Mulholland. | John Vernon. |
| Richard Mulholland. | John M'Dowell. |
| Surgeon M'Donald. | John Birney. |
| George Boomer. | Lucas Waring. |
| David Beatty. | Rev. H. Smith, P.P. |
| H. T. Higginson. | James Ward. |
| John Crossley. | W. S. Hunter. |
| Thomas Johnston. | Jos. Caldbeck. |
| Samuel Kennedy. | William Dillon. |
LIST OF THE MAZE RACES. 1839.
This old list of the Maze Races is printed on one side of a single sheet of flimsy paper, measuring nine inches by fourteen. There is a rough racing block at the top of the sheet, and on the reverse side is a poem or ballad entitled, "The Baby's Dream." The printer is James O'Neill, No. 8 Pottingers Entry, Belfast. The names of the owners and horses, with age and weights, given on the list are omitted here.
Monday, July 22.
Hunter's Sweepstakes of 10 sovs. each. P.P. £30 added to the winner, by Mr. Maxwell of Finnebrogue, for the produce of either Turcoman or Robin. To run on Monday of the July Corporation Meeting at the Maze and Downpatrick alternately. Colts 8st. 7lb.; fillies and geldings, 8st. 4lb. To continue for three years. Five entries.
Sweepstakes, 15sovs. each 5ft. for hunters. Race horses admitted, to which the Governor will add £50, second horse to save his stake, and receive £10 out of the other stakes should 6 start. Two mile heats. Highest weighed horse carrying not less than 10st. Eleven entries.
Sweepstakes, 10sovs. each, 5ft. for maiden hunters that never won plate, prize or stakes, previous to the day of entrance. One mile and three-quarters heats; three yrs. old, 8st.; four years old 9st. 10lb.; five years old, 10st. 7lb.; six years old, 10st. 12lb.; aged, 11st. 31b. to mares and geldings. £25 added; second horse to save his stake. Four entries.
Tuesday, 23.
Royal Corporation Plate -- Sweepstakes, 5gs. each, for County of Down bred hunters, that never won a Racing Plate or stake; 50 gs. added by the Corporation to the winner, and 10gs to the second horse, who will save his stake. Two mile heats. Three entries.
Sweepstakes of 10 sovs. each, 3ft. for hunters; race horses admitted; second horse to save his stake. One mile and a half heats; £25 added.
Wednesday, 24.
Queen's Plate of £100 -- late Irish currency [-- ? --] Four mile heats. Three entries.
Hunters Sweepstakes of 15 sovs. each, 5 forfeit for horses foaled in, and bona fide the property of freeholders, or residents of the County of Down. To which will be added the Challenge Cup -- value 100gs. -- given by the Earl of Hillsborough. One round of the Hillsborough course. Heats. Three entries.
Free Handicap -- Hunters Sweepstakes of 5 sovs. each. Race horses admitted, second horse to save his stake. £25 added.
Thursday, 25.
Castlereagh Cup -- Hunters -- Sweepstakes of 10 sovs. each, h-ft. and the Challengeable Cup given by Viscount Castlereagh. To become the property of the winner three successive years. Six entries.
Sweepstakes of 15 sovs. each, 5ft. £10 added, second horse to save his stake. Three mile heats, gentlemen riders. Three entries.
Friday, 26.
Queen's Plate of 100gs. weight for age. The winners of the Queen's Plate on Wednesday to carry 4lb extra. Four entries.
Hunter's Sweepstakes of 5 sovs. each, 2ft. Race horses admitted. One mile, £25 added.
Saturday, 27.
Downshire Stakes -- Sweepstake of 5 sovs. each. P.P. for County of Down bred hunters. £50 added by the Marquis of Downshire. Four mile heats. Five entries
Consolation Stakes -- Hunters sweepstakes of 3 sovs. each. 1ft. for the beaten horses which have run during the week and saved their distance in any race. Second horse to save his stake, to which will be added the Ladies' Purse. To be ridden by gentlemen or jockies as the Governor may please.
The Brownlow Cup and Hillsborough Claret Jugs, are to be challenged before nine o'clock on Monday evening of the meeting.
Hillsborough, Governor. July, 18th, 1839.
RECOLLECTIONS OF HUGH M'CALL.
Mr. Hugh M'Call was born in Lisburn in the year 1805, and died in the town of his nativity in 1897. In politics he was a liberal, of what may be termed, the old school, and an ardent supporter of the rights of the Irish tenant-farmers. He was a most prolific writer and fluent speaker, and his literary attainments were far beyond the average. For over half a century he was a constant and industrious contributor, in prose and verse, to the daily press and other publications. In 1855 was published "Our Staple Manufactures: A Series of papers on the History and Progress of the Linen and Cotton Trades in the North of Ireland," by A Manufacturer. The author was Mr. M'Call. A second and enlarged edition appeared in 1865 under the title -- "Ireland and her Staple Manufactures: Being Sketches of the History and Progress of the Linen and Cotton Trades, more especially in the Northern Province." These were followed by a third edition in 1870, and!* fourth was in preparation, and almost reedy for the press when the hand of death intervened. His other works were "The Cotton Famine of 1862-63, and "The House of Downshire." In 1899 was published "Some Recollections of Hugh M'Call, Lisburn," for private circulation only. Printed by J. E. Reilly, "Standard" Office, Lisburn. This little volume contains some seventy pages and is full of interest to North of Ireland readers. Only items, referring directly to Lisburn and district are extracted and here recorded
Extracts from the "Recollections."
Hugh M'Call was born in the year 1805. His father, Robert M'Call, then resided in Chapel Hill in a small house, which was pulled down many years ago. Some of the adjoining houses were associated with persons of great interest to Lisburn history. Not far away lived Mr. Betty, the father of the celebrated young actor, Wm. W. Betty; and in the month of August, 1803, the boy, then under thirteen years of age made his first appearance on the stage at Belfast.
W. H. Betty, of Chapel Hill, Lisburn, owned a large bleachfield near Ballynahinch. In the course of his business travels in England he met Miss Staton, daughter of a wealthy landowner -- James Stanton, of Hopeton, County of Salop -- and to that lady he was married in October, 1790. He brought his handsome bride to Lisburn, where she was received with the utmost attention in the homes of the local gentry and merchants.
Luke Teeling, who resided nearly opposite Mr. Betty's house, and who was also in the linen trade, had considerable taste for literature and the drama. He paid much attention to the young matron, and introduced her to his interesting family.
During the autumn of the succeeding year she visited her native place in Shrewsbury, and there, on the 13th September, 1791, "The Young Roscius" was born, and received the baptismal name of William Henry West.
Mrs. Betty and her son returned to Lisburn. At the age of five years the lad was sent to Peter Goyer's School, and after a rudimental course of instruction his future education was altogether in the hands of his mother, who had ample ability to discharge that duty.
His father was an excellent elocutionist and as Mrs. Betty possessed much taste for the drama, the lad became an adept in reciting Shakespeare when in his ninth year.
Bartley Teeling.
Luke Teeling, a linen merchant and bleacher, resided in the house afterwards occupied by Robert M'Call, and which house is situate in the south side of Chapel Hill, immediately adjoining the Chapel. His eldest son, Bartholomew -- familiarly called Bartley -- left his home in 1792 and went over to France, and some time after introduced himself to Napoleon, then First Consul, who appointed him lieutenant in his bodyguard.
Teeling landed at Killala, in the County of Mayo, with the French troops. The British Army met them at Castlebar, and the French invaders chased them out of town. The two armies met several times but at Colooney, Sligo, Teeling was taken prisoner and brought to Dublin. His get-up was perfect, as the six years' resident in Paris had acclimatized him, and he spoke the language like a native.
He was brought before Major Sirr, the chief military authority of the city and who had been in command from 1793 till the time of Teeling's arrest. Sirr could not really assure himself that his prisoner was Teeling, formerly of Lisburn. He had him brought into his parlour, several soldiers' in plain clothes being stationed in the hall to prevent any attempt at escape.
The Major, knowing that in Dublin Linen Hall were often to be seen merchants from Lisburn, sent his servant there to say that a gentleman of that town was anxious to see a Lisburn merchant. The late William Coulson, founder of the Damask Factory, came to Sirr's house, and at once recognised Teeling, and shaking hands with him, thus unquestionably proved his identity.
Teeling was immediately tried and found guilty, as several members of the English Army had seen him leading one wing of the French troops at Colooney, near Sligo. He was hanged next day at Arbour Hill, Dublin.
Thomas O'Hagan married a very pretty daughter of Luke Teeling; she was his first wife. Belfast had the honour of sending two Lords Chancellors to the Irish Woolsack -- O'Hagan and Napier -- and one to the English -- McCalmont Cairns.
Napper Tandy.
Napper Tandy, who was a prominent United Irish man, figured in Paris in 1790, and for some years afterwards. He was the son of James Tandy, a linen manufacturer, who lived in Bridge Street, Lisburn, in a house on the south side and near the entrance to Market Lane. He was called "Croppie" Napper Tandy. The fashion at the close of the last century was to wear the back hair very long, and tie a portion of it with black silk ribbon, the "queue" as it was called, hanging over the coat collar. The United Irishmen cut off the queue, hence the origin of the term "Croppie."
A portrait of Harry Munroe shows that he continued to wear his queue even to the day of his execution in June, 1798.
A school was kept by Mrs. Sweeney in the year 1812, at a house in Chapel Hill. Amongst the pupils there was Francis McNamara, who emigrated to Barbadoes, and rose to wealth and eminence as a sugar planter.
In Castle Street a school was also kept by Mr. Charles Sheals. After the fashion of those days, the master thought that the only incentive to learn was the rod, and the cry of the child was apparently the sweetest, music in his ears.
One of the scholars at that school was Benjamin Workman, who afterwards became a leading merchant in Montreal. John Corken was another, and there were many others whose names afterwards became well known in connection with the Church, the Commerce, and the Politics of Ulster.
In the year 1815 a man called Cunningham was taken in Belfast by the press-gang when he was on his way to his work. For seven years no word was heard of him.
The letters which he wrote to his relatives were supposed to have been destroyed. It is scarcely possible to realise from books or even from statements of the survivors, the difference between those days and the brighter times in which we live.
In 1817 a man was put upon his trial at Carrickfergus for passing a forged note for 35s. The note purported to be a bank note of the Belfast Bank, which was then called the "Black Bank," because the printing of its notes gave them such a black appearance. The prisoner was unable to read. He could not have known whether the note was forged or not. He asked the judge who presided at the trial whether there was no mercy for such as he was, and the judge's only reply was that he was bound to administer the law as he found it, and accordingly the prisoner was convicted and hanged.
In 1798 there were in Lisburn three brothers -- John, Hugh, and Harry Mulholland -- belonging to the family now represented by Mr. J. R. T. Mulholland, J.P. John was a United Irishman, Harry was in the Yeomanry. Both were present at the Battle of Ballynahinch, and Hugh, with Falstaff's discretion, was too prudent to join either party. The "United Irishmen" named the three brothers, "Good, Bad, and Indifferent." Harry Mulholland was buying linen cloth with the unfortunate Harry Munroe at the Lurgan market a few days before the Battle of Ballynahinch.
Harry Munroe.
Mr. M'Call was well acquainted with the history and disasters of Henry Joy M'Cracken, of Belfast, and from him came the traditional story of M'Cracken' sister giving £15 to the hangman, employed bat her brother's execution in order to obtain the body immediately after the execution, but the hangman's work had been done too well.
He used to tell with great animation the story of Harry Munroe and his betrayer -- a farmer named Holmes -- who received the rebel leader, and afterwards betrayed him to the Captain of the Black Troop; and of the unfortunate man who was hanged at Hillsborough on no bettor evidence of treason than that a token was found in his shoe bearing the words "Remember Orr."
Among those who were seized and imprisoned was John Jacobson. He was confined in the Lisburn Guard-room with a dozen others on the night before the fight at Ballynahinch. Sergeant Whyte, of the Lisburn Yeomanry, was placed in charge of the prisoners, together with ten privates, whose carbines were loaded with ball.
About midnight a Dragoon galloped up to the Guard-room and gave an order to Whyte. The prisoners begged to know what the mounted orderly had said. The sergeant did not wish to tell them, but at length replied, "It is rumoured that Munroe and his troops are about to storm the town. A sentinel is placed on the Down Bridge to warn the troops of the barrack of Munroe's approach, and in such a case all prisoners are to be shot."
In these perilous times Mr. McGhee, the Parish Priest, was going out one night to visit a parishioner in Blaris. An Orangeman, who knew the popular priest told him of his great danger owing to the mob of Orangemen on the road, invited him into the house where an Orange Lodge was sitting, where he remained in safety, and was afterwards accompanied by a guard of Orangemen.
As a boy he knew Harry Munroe's mother, and his sister "Peg," of whom it was related that she was present at, and rode her pony in, the fight at Ballynahinch. According to her mother's story, Peg rode a gray pony and wore a grey sash. Another girl of about the same age -- Bessie Gray, of Killinchy -- insisted upon accompanying her lover, who was one of the United Irishmen, to the field at Ballynahinch. Her devotion to her lover, which cost her her life, has been celebrated in a poem by the late William McComb, of Belfast.
Of distinguished Lisburn men the name of the celebrated Captain Flack should not be omitted. He had entered the army as a private, had served through the Peninsular War, rising gradually step by step and gaining on more than one occasion the warm recommendation of his leader, the future Duke of Wellington. With pardonable pride, the soldier told the story of Wellington the night before the Battle of Badajos sitting dictating despatches to two secretaries, and ordering Flack to take up his position upon a neighbouring hill and watch the approach of the enemy. The General said he would take a few hours' sleep, but in less than two hours after Captain Flack had been sent out, and about two o'clock in the morning he saw a cloaked figure approach the spot on which he stood. He challenged, threatened to shoot, and then discovered that his visitor was Lord Wellington. His alertness was rewarded by quick promotion.
At the close of the Peninsular War, Captain Flack retired on a pension, on which he lived for many years afterwards. He spent the remainder of his years in Armagh, and perhaps this accounts for the mistake made by Maxwell as to his being a native of Armagh. He died in March, 1853.
(To be continued.)
-- -- -- -- -- -- --
REPLY TO "VERITAS."
To the Editor of the "Lisburn Standard."
Sir -- The letter from your correspondent "Veritas," in many respects is most admirable and interesting. It throws light on another phase of the Revival of 1859, and gives a valuable list of names and authorities. An under-current of personal bitterness , however, pervades it, which somewhat distracts from its value.
"Veritas" errs gravely in assuming that I was out "to discredit the great Revival of 1859, and to offend the susceptibilities of some of the readers of the "Lisburn Standard." Nothing was further from my intention. I neither defended nor condemned the Revival. I pointed out that some writers and thinkers looked upon it as "A Year of Grace," others considered it "A Year of Delusion." I passed no opinion on the merits or demerits of either.
M'Cann's pamphlet was treated as a curious relic out of the past, and my notes on it and on the "Physical Manifestations" were never intended as a history of the Revival, but simply a reference to a phase of it as expounded in an old Lisburn document.
Helpful criticism, or new and additional information, regarding any of the articles will always be thankfully received. -- Yours truly,
JAMES CARSON.
-- -- -- -- -- -- --
I.H.I.
To the Editor of the "Lisburn Standard"
Sir -- In Mr. Carson's notes on Old Lisburn given in yours of the 25th May, a copy of the inscription formerly on the old buildings in Market Square is given commencing with the initials I.H.I, These are somewhat unusual but I have seen them once on a stone of similar date (1708) at Slane. They may mean Jesus Hominum Index (Jesus the Judge of men) and the lettering rather confirms this by their reference to Judgments. The fire was evidently so considered at the time as confirmed by the other inscription and the Australian account.
The Wards had their book shop at the south-west corner of the Square. A portion of the scaffolding on which Henry Munroe suffered was rested on their upstair window-sills, which gave them much annoyance. It was so erected in order that it might be in view of the Munroe homestead.
The Marcus Wards and the late Isaac W. Ward ("Belfastiensis") were of this family. The late James T. Ward, of Cherry Hill, told me that his grandfather was the James Ward mentioned in Bradshaw's Directory (1819)
An old wooden tower on the Cathedral was only replaced by the present beautiful steeple about 1806. -- Yours, etc.,
FRANCIS JOSEPH BIGGER.
Ardrigh, Belfast.
========================
LISBURN TOWN COURT.
This court was held yesterday before Hugh Mack, J.P. (in the chair); Messrs. Robert Griffith, J.P.; W.J. M'Murray, J.P.; and Alan Bell. R.M.
District-Inspector Gregory and Mr. T. J. English, C.P.S., were in attendance.
Constable Newman v. Wm. Crothers, indecent behaviour, on Sunday, 20th May.
Complainant said that Crothers was jostling people of the foot-path, and became very disorderly.
Defendant resided in Belfast and was one of a number of persons who came up to Lisburn to get drink.
Chairman -- He must pay a fine of 20s and costs.
Sergeant M'Farland v. Samuel M'Gann, drunk on 18th May in Market Square. Defendant, who had been a soldier and was wounded at the front, was fined 2s 6d and costs, the Chairman intimating that if he was brought up again he would be sent to jail.
Sergeant Regan v. Charles M'Callister, drunk on 25th May. Constable Timlin v. same defendant, indecent behaviour on 26th May.
It appeared that in the latter instance defendant was demanding from his aunt, army papers which he alleged she had relative to his brother who had been killed at the front. The aunt denied that she had any papers of the kind.
Defendant said he was very sorry and remembered nothing about the trouble. He had got a mouthful of drink at the time. He had been in the army himself, and was discharged, after being in France, on 26th July last.
A fine of 2s 6d and costs was imposed.
Mr. Joseph Allen, solicitor, in the absence of the Town Solicitor, conducted the prosecutions.
=========================
LISBURN PETTY SESSIONS.
This court was held yesterday before Sir Hugh Mack, J P. (presiding), Messrs. Alan Bell, R.M.; Robert Griffith, J.P.; and W. J. M'Murray, J.P.
Irish Education Act.
For non-compliance with the above Act, on the evidence of Mr. B. M'Creight, school attendance officer, Mary A. Sharkey and Lizzie Murray were fined 1s and 4s costs; and attendance orders were granted against Annie M'Shean, Annie Keary, and Mary A. Sharkey.
Alleged Larceny of a Revolver.
Wm. Montgomery and Charles M'Callister were charged on remand with, as alleged, being concerned in the larceny of a military revolver from two soldiers.
On the case being called,
District-Inspector Gregory said he had to apply for an adjournment. The soldiers after reporting the loss of the revolver at the barracks bolted, and it turned out they were deserters. He was endeavouring to find out if the revolver belonged to the military authorities.
The case was accordingly adjourned, defendants were allowed out on bail.
Alleged threatening Language.
John Cappa, Longstone St., summoned Charles Dornan, Dublin Road, for alleged threatening and abusive language on the 24th May.
Mr. Allen appeared for Cappa and Mr. Maginess for Dornan.
Cappa said he was a vegetable dealer and kept a pony. The defendant was a blacksmith. On the date in question he took his pony to Dorian's shop to get on a pair of hind shoes. James Dornan was preparing the shoes for the pony when his brother Charles came in. He asked who put the front shoes on the pony, and witness told him it was another smith. Dornan then told him to take the pony out of that or he would break both witness's and the pony's neck. When witness was taking the pony out Dornan hit it a kick. Dornan's mother and sister came rushing out and said that if witness did not get off the premises they would break his neck. He had to leave without getting the pony shod. All he said to Dornan was that he was prepared to pay whatever he would charge.
By Mr. Maginess -- The pony would not kick a child. Dorman had always shod it before he bought it. He did not go to Dornan to put on the hind shoes because the other blacksmith had refused to put them on owing to the viciousness of the pony. The pony did not kick any of Dornan's house down.
Mr. Allen -- Dornan struck the pony with his foot.
Witness -- Yes!
Mr. Maginess -- Nd that is the abusive language you charge him with.
James Dornan (called by Mr. Maginess) said he was a brother of defendant. He got a summons in that case to appear on behalf of Cappa. He knew the pony. It was in the shop before. Not the last time, but the one previous it kicked the man who shod it, and he had to lay up for four days. When Cappa brought the pony to the shop on the 24th he agreed to put the hind shoes on the pony and had commenced to make them when his brother Charlie came in and objected. There was not a word of truth in the statement that his brother threatened to break Cappa's neck. When Cappa was taking the pony out it commenced to kick and knocked down part of the shop. They were going to take proceedings for damage done.
By Mr. Allen -- He was preparing to shoe the pony when his brother came in. Charlie was the boss. His mother and sister came out when they heard the pony kicking down the house. They didn't say anything to Cappa.
Their Worships dismissed the case.
Mr. Maginess asked for costs, but the application was not acceded to.
Hickland v. Hickland.
Mary Hickland sought a decree against her husband, Thomas Hickland, for £7 10s arrears of a maintenance order.
Mr. Maginess appeared in support of the order. He said that the husband and wife were separated and on the 4th May last year the court fixed the amount the husband should contribute to his wife's support at 15s weekly. Nothing had been paid since 17th March. A previous decree had been got against the husband who paid upon that occasion.
Mrs. Hickland, on oath, bore out Mr. Maginess' statement and a decree was granted.
=========================
FUNERAL OF MR. J. H. M'CONNELL.
On Tuesday the remains of the late Mr. John Henry M'Connell, Cherryvalley, Crumlin, were laid to rest in the Presbyterian churchyard of the village. The cortege was one of the largest ever seen in the locality, embracing, as it did, a representative from almost every homestead an the district. The deceased was one of the old school of land commissioners, and served in the strenuous times when the land campaign was at its height. Since his retirement he resided at Cherryvalley, where he commanded the friendship and esteem of the community. His farm was a model one and his counsel was always at the disposal of those less experienced in the science of agriculture than himself.
A pathetic feature in connection with the passing away of the deceased was the fact that his son, Dr. M'Connell, had just returned from the front on a hurried visit, to find that his father, whom he had longed to greet, was no more.
The funeral arrangements were carried out by the firm of William Ramsey, Lisburn, under the personal supervision of Mr. Robert Ramsey.
=========================
THE WAR.
-- -- -- --
LULL ON BRITISH FRONT.
-- -- -- --
ITALIANS ATTACK IN NEW THEATRE.
-- -- -- --
FURTHER LOCAL "MENTIONS."
-- -- -- --
The lull on the British front still continues, Sir Douglas Haig telegraphing last night that apart from mutual artillery activity there was nothing of special interest to report. Our airmen have driven down two German aeroplanes, and one of our machines is missing.
The French communiques report fierce fighting in Champagne. Early yesterday several points, but after hours of fighting were driven back with heavy losses. Only at one point, in the region of Mont Blond and Mont Haut, did the enemy succeed in securing a foothold in some advanced elements. Yesterday our Allies in a counter-attack recaptured these trenches, completely restoring their lines.
The first phase of the Italian offensive on the Isonzo having closed, our Allies have opened a campaign in Albania. On Monday night they attacked enemy irregulars east of Berat, and fighting continued throughout Tuesday and the following night. Four villages were stormed by our Allies, and held against the attack of regular forces. Since the 14th 23,681 prisoners, 36 guns, 148 machine guns, and 27 trench mortars have been captured by Cadorna's gallant troops.
THE SUBMARINE CAMPAIGN.
The Admiralty reports that during the week ending Sunday last 18 British vessels over 1,600 tons, one under that tonnage, and two fishing craft were destroyed. The larger ships sunk number the same as in last week's return, but those under 1,000 tons have decreased from nine to one, and the fishing craft are one less than the previous week. The total sinkings are less than the previous week. The total sinkings are less than a third of the record of four weeks ago.
-- -- -- -- -- -- --
FURTHER LOCAL MEN IN DESPATCHES
The following further local men (or having local connections) have been mentioned for gallantry and devotion to duty in the field by Field-Marshall Sir Douglas Haig:
Captain C. A. Whitfield, R.A.M.C., son of Mr. H. S. Whitfield, Lambeg. He joined up on completing his medical course at Queen's shortly after the outbreak of war.
Lieut. A. V. Coulter, Machine Gun Corps, son of Mr. Stewart Coulter, Railway Street, Lisburn. A brother of this officer, Sec.Lieut. W. E. Coulter, is serving with the Leinsters in Mesopotamia.
Lieut.-Colonel Hugh Stewart, M.C., M.B., Royal Army Medical Corps, elder son of the late Captain Hugh Stewart, of the 39th and 22nd Foot, and a grandson of the late Sir Hugh Stewart, Bart., M.P., of Ballygawley, County Tyrone. His brother Lieutenant H. St. G. Stewart, is serving in the Royal Inniskilling Fusiliers. These officers are nephews of Mrs. St. George, Lisburn.
Major T. R. A. Stannus, Reserve of Officers, Leinster Regiment. He is a relative of Miss Stannus, of Lisburn.
Temp.-Major O. B. Graham, Rifle Brigade, son of Mr. O. B Graham, J.P., Larchfield, Lisburn.
Captain H. B. M'Cance, R.A.M.C., General List, a son of Mr. J. S. F. M'Cance J.P., Woodbourne, Suffolk, Dunmurry, Chairman of the Antrim County Council. Captain M'Cance is a member of the North of Ireland Cricket Club.
Lieut.-Colonel S. R. M'Clintock, Gordon Highlanders, son of Lieut.-Colonel Charles E. M'Clintock, J.P., Glendaragh, Crumlin.
Captain W. Russell, R.A.M.C., son of Mr. Francis Russell, Dromore Street, Ballynahinch, and brother of Mr. Frank Russell, Veterinary Surgeon, Lisburn.
-- -- -- -- -- -- --
KILLED IN ACTION.
Second-Lieut. R. M. Gurnell.
Second-Lieutenant Robert M. Gurnell, Royal Irish Rifles, officially reported killed in action on the 21st May, was the younger son of the late Mr. Lawrence Gurnell, Boardmills, and formerly of Lisburn. The deceased officer, who was twenty years of age joined the colours as a cadet and received his commission a short time ago. He only arrived in France on the 2nd inst., and Captain Gibson, C.F., in writing to the young man's mother on the 21st inst., stated that he had made a most favourable impression upon all during his all too brief term of service. He was buried that afternoon in a little cemetery behind the lines, and his grave is marked with a wooden cross bearing his name upon it. There with many of his comrades who like him have made the great sacrifice he rests "until the day break and the shadows flee away."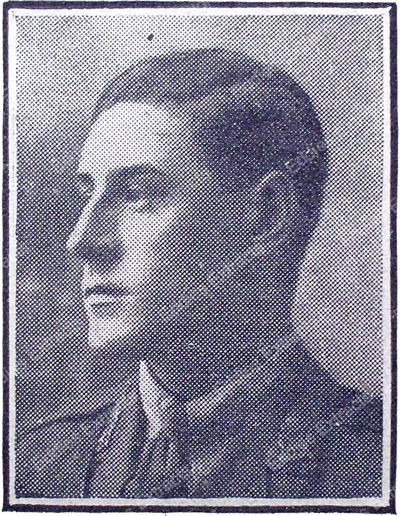 Sec.-Lieut. R. M. Gurnell. ("Evening Telegraph" Photo)
Captain Somers his company officer, in a letter to Mrs. Gurnell, says:--
Your gallant son was only a very few days with us, but even in that short time we had formed a real admiration for his calm and splendidly manly conduct in the carrying out of his many dangerous duties. I know that it will be a consolation, which all who have lost loved ones out here look for, to learn that it was in the performance of his duty he fell. He was killed by an enemy sniper at 5 a.m. on 21st inst. I can assure you his death was without suffering, as it was instantaneous. I arrived just in time to be with him in his last moments. He is buried with many other of our gallant comrades and was accorded the full rights of a military funeral and Christian burial.
On behalf of the officers, N.C.O.s and men of his company, I offer our personal sympathy with you in your great sacrifice.
At the weekly meeting of Boardmills No Compromise Lodge, I.O.G.T., on Friday evening, 25th ult., Bro. Rev. J. L. M'Candless, C.T., presiding, reference was made to the sterling ability, high character and popularity of their late brother, Second-Lieut. Robert M. Gurnell, and a resolution of heart-felt sympathy with the mother of the deceased and other relatives was passed by standing vote, an appropriate hymn being afterwards sung.
-- -- -- -- -- -- --
FRENCH HONOUR FOR DUNMURRY CAPTAIN.
Captain W. A. Anderson, R.A.M.C., has been awarded the Medaille d'Honneur d'Or (golden medal of honour) in recognition of services rendered. Captain Anderson is a son of the late Mr. Alexander Anderson and Mrs. Anderson, the Park, Dunmurry. He was educated at the Royal Academical Institution, and is an M.A. and M.B. of the University of Cambridge, and a L.R.C.P. and M.R.C.S. (London). Before he joined the army Captain Anderson was in practice at 24 College Gardens, Belfast. Capt. Anderson was mentioned in Sir Douglas Haig's despatch. Two of his brothers are in the army -- Captain D. M. Anderson, Royal Irish Rifles, and Lieutenant R. N. Anderson, Reserve Regiment of Cavalry.
-- -- -- -- -- -- --
MORE LISBURN V.A.D. VOLUNTEERS.
Miss Mable Clarke, daughter of Mr. Joseph Clarke, Magheraleave Road, has been called for special service in Hilden Convalescent Hospital, Belfast. Miss Clarke had obtained First Aid and Nursing Certificates as well as Medallion. She attended lectures given by Dr. George St. George and is a member of No. 900 St. John Ambulance Association. V.A.D., of which Mrs. G. R. Bell is commandant, and Mrs. J. L. Allen the Quartermaster.
Miss Katherine Hall, daughter of Mrs. John Hall, daughter of Mrs. John Hall, Moyrush, Moira, has been sent to Sheffield to the 23rd General Military Hospital where she has spent a month and signed on for regular work. Miss Hall signed on for regular work. Miss Hall obtained both First Aid and Nursing Certificates and is a member of No. 900 V.A.D.
-- -- -- -- -- -- --
ULSTER DIVISION SHOW.
At a parade and show of the Ulster Division held in France last month Rifleman Turkington, 14th R.I. Rifles (Y.C.V.s) son of Mr. Turkington, principal teacher of Magheragall N.S., got second prize for his transport teams, first honours going to the R.F.A. Rifleman Turkington is at present home on a short leave, the first since the Division went to the front, and is looking quite fit.