SOME EXTRACTS FROM THE
RECORDS OF OLD LISBURN
AND THE MANOR OF KILLULTAGH.
-- -- --
Edited by JAMES CARSON.
-- -- --
XXXVIII.
-- -- --
HIBERNIAN MAGAZINE.
May, 1778.
A long and interesting article appeared in this magazine, dated from Glenavy, and bearing the simple signature X. The natural conclusion would appear to be that this article was written by the author of "Heterogenea," who was born in 1747 and resided for a time at Glenavy. The internal evidence, however, rather precludes this conclusion, and it is not at all improbable that the article was from the pen of the author of "A Tour in Ireland," 1813 and 1814.
Only short extracts are here recorded, sufficient to give a general idea of the scope and trend of the article.
At present Lisburn consists of three streets centring at the Market Place on the north side of the River, and one on the south side. The houses are generally built of brick in a neat handsome manner, and slated, and are mostly three storeys high. The streets are well paved and kept clean. In the winter season they are well lighted with globe lamps at proper distances, so that doubtless this is the handsomest inland town in Ulster. The whole number of houses in the town and suburbs in 1776 was 654, which at seven to a house contain 4,578 inhabitants.
The church is moderately large, but not elegant in its structure. The steeple is of a tolerable height. The Presbyterian Meeting House is a much more elegant building, it is large and lofty, built of stone, plain on the outside, but remarkable for the neatness and elegance of the inside work. It is about 60 feet by 40, exclusive of staircases. Three large galleries, supported by seven pillars, surround the house. A large genteel congregation is to be seen here on Sundays.
The Friends' Meeting House, the Methodist Church, the Roman Catholic Chapel, the Market House, and the Assembly Rooms are referred to and described.
A few years ago the Market House had a clock and steeple, but, the latter being taken down, the former was removed to the Church steeple. The landlord, who receives annually near £14,000 from this estate, not a shilling of which is spent in Ireland, cannot be prevailed upon to rebuild this steeple.
The building of the Linen Hall, the trade of the town and the markets receive attention and notice.
There is likewise a pretty considerable trade in the manufacture of linen cloth carried on here, and in the shopkeeping way, and of late years in supplying the towns more inland with foreign merchandise such as timber, groceries, spirits, ashes, etc., etc. The River Lagan, which passes by this town, is navigable for vessels of thirty or forty tons from Belfast, several of these vessels are constantly employed in bringing coals, and other merchandise from thence, which, till of late years, belonged to merchants of that town, but the inhabitants of Lisburn began now to see their own interests, several of them having established warehouses in the town, and some being concerned in vessels that carry on foreign trade, now not only supply their own but many of the neighbouring towns with foreign merchandise, and what is yet more surprising, a Quaker gentleman in Lisburn supplies many people in Belfast, which is a seaport, with wines of all sorts.
Right through the article runs a gentle vein of sarcasm that at times is quite refreshing.
Thus, without the aid or encouragement of a landlord, has this town increased in building and in trade. If it had the advantage of a landlord who could either spare the time to visit it now and then in person, or give orders to allow a small matter yearly for necessary improvements, few inland towns in Ireland could equal this. The former we cannot expect, his lordship having so many lucrative employments about the Court, requiring his attendance, and his character for generosity has been so well established in his vice-royalty that few will wonder of his neglecting the latter.
Here follow numerous suggested improvements, a complaint that the town provided no charitable institution, not even a parish-school, and an account of an attempt to establish a poorhouse, blocked by Lord Hertford. The foundation and opening of the Friends' School, Prospect Hill, received due notice. The pride of the ladies of Lisburn comes in for severe criticism. A very long paragraph being devoted to this interesting subject.
The character of the inhabitants of Lisburn is well established, pride being their principal foible, many of those who, from being destitute of fortune, high birth, or education, seem least entitled to vanity, justly deserve this character. The ladies are in general brought up too much in high life for their circumstances the whole business of their lives is dressing and attending balls, domestic concerns are below their notice, and few of them have got an education sufficient to give them a taste for that rational amusement -- reading. By this means, those ladies are too high for tradesmen to look to as future partners, and three or four hundred pounds are much too little to purchase nobility for the daughter of a north country linen draper.
The young men of Lisburn also do not escape scathless, they suffer equally with their gentle sisters, from the caustic humour that flows so freely from the facile pen of X.
He waxes eloquent on subserviency to landlord tyranny --
Though the inhabitants of Lisburn behave thus haughtily to those whom they imagine their inferiors, they are kept in a state of abject slavery by their landlord, and so accustomed have they been from generation to generation to tremble at the frowns of his agents and stewards they look upon him who should act or even think contrary to his will and pleasure, particularly in regard to their most important concern -- that of elections -- as a rebel, and his company is avoided as such, no person would have any communication with him. Thus, instead of endeavouring to maintain their rights, they join their endeavours to confirm their own slavery.
The author grants ungrudgingly than there were, as might be expected amongst the citizens, honourable exceptions. How much truth or foundation, however, there may have been for the severe strictures upon the good inhabitants of Lisnagarvey, a hundred years ago or more, it is now difficult to say. It Is noticeable that in the literature dealing with the period about 1770-1830, reference crops up occasionally to the pride of the ladies and the exclusiveness of the linen drapers. The term, "linen draper," in this connection was applied to a merchant engaged in the linen industry. Harsh judgment should be reserved when it is considered, how many in the North of Ireland, and in Lisburn in particular, sprung into unexpected opulence through the activities of the new industry, the power of the landlord, the living in a small and restricted community, and the power and influence that even comparative wealth then conferred. It is a pleasing contrast indeed, should the picture be only partly true to turn to the Lisburn of to-day with its wider outlook the freedom from petty tyranny, the larger and more general interests, and the more equal distribution of wealth. Possibly no town in the North of Ireland is more happily situated, than Lisburn in regard to the general social status of its inhabitants, and the freedom, from that narrow and soul corroding social exclusiveness, and those petty social distinctions so emphatically condemned by X.
In the same number of the magazine under date, Lisburn, March 1, 1778, appears an account of the death of a Lisburn worthy, and a long and glowing account of his many good deeds and perfections --
This day died Mr. F. Burden, of this place, linen draper, a man whose character approached as near perfection as human nature is probably capable of, his conduct through life having discovered humanity in its most engaging colours and highest degree of excellence, exhibiting to the world a model of strict justice and universal benevolence.
-- -- -- -- -- -- --
A TRUE AND IMPARTIAL HISTORY OF
THE MOST MATERIAL OCCURRENCES
IN THE KINGDOM OF IRELAND.
By an Bye-witness.

Published in 1891.
A Continuation of the impartial History of the Wars in Ireland, 1689-92.
By GEORGE STORY.
Published in 1693.
Both books are bound in the same volume and combined run to some 500 pages. George Story was chaplain to the Earl of Drogheda's Regiment.
This is a valuable and scarce book. There is a good and well-preserved copy in the Linen Hall Library. The combined works cover Schomberg's operation's in Ireland, the landing of William III. at Carrickfergus, the Boyne campaign, Siege of Derry and other important and interesting events in those momentous years. There is not much bearing directly on the history of Lisburn in either work. The Rout or Break of Dromore is thus referred to --
Early in 1689 the Protestants in Ireland were in daily expectation of arms, ammunition, commissions, and some forces from England, and it's more than probable, that if they had got them, or not hoped to them, the business had cost neither so much blood, or treasure as since it has, yet some advised, not to make any show of discontent, till they had an opportunity, and were in a condition to make their party good, by the arrival of succours from England. But the greater part, impatient of delays begin to lift men, and with what arms they could get, to make a show of forming an army. Against those in the North, Lieutenant-General Hambleton, an official of King James, marched with about one thousand of the standing army and nigh twice as many Rapparees, in a distinct body, they met at Drummore, in the County of Down, and on the 14th March the Protestants were routed with no great difficulty, and no wonder, for they were indifferently provided with arms, ammunition, and commanders, nor was their discipline any better. This was afterwards called "The Break of Drummore" a word common amongst the Irish Scots for a rout.
Reference, is made to Lisburn, which Duke Schomberg's army passed through on it's March South, September 2nd, 1689. "One of the prettiest inland towns in the North of Ireland, and one of the most English-like places in the kingdom." The oft told tale of the "Gamesters' Mount" is also related. Lord Lisburne appears as an officer in the army. Captain de St. Sauvem, a Frenchman, who took part in the defence of Sligo, and a Colonel Langston died of a fever at Lisburn. Schomberg had his headquarters in this town, and an hospital in Belfast. The General at this time did not advance further than Dundalk.
On Tuesday, 3rd September, 1689, Schomberg's Army marched through Hillsborough, a place where the enemy before our coming, had kept a garrison, near which, on the highway side, were two of our men hanged for deserting, that night we encamped at Dromore.
Brass Money.
And now, December 1689, the Irish begin to make the coin of their brass money less than it was at first, calling in the large brass half-crowns and stamping them anew for crowns, they wanting metal to go on with as they first began. They say it was a Quaker that first proposed this movation of brass money, but whoever it was they did that party a great service, since they would never have been able to carry on the, war witbout it.
Convention in Lisburn.
Towards the end of November, 1689, General Schomberg summoned all the gentlemen in the country to meet him at Lisburn, where they presented him with an address, and agreed upon rates for all sorts of provisions which were commanded to be sold according to the Duke's Proclamation, but this was very disagreeable to the country people who had made us pay treble rates before for everything we had from them.
Mention is made, in March 1690, of four prisoners taken at Charlemont being brought to Lisburn. All this time the General in Lisburn was daily sending provisions and stores to the men stationed on the frontiers.
King William landed at Carrickfergus, June 14th, 1690. On June 19th his army passed through Lisburn on its way to Hillsborough, and on that day the King dined with Schomberg at his headquarters in Market Square. On 27th June the army marched through Dundalk 36,000 strong, composed of English, Scotch, Dutch, Germans, Danes, French, and Ulster Protestants.
One of James' officers -- Sarsefield -- speaking of the Boyne said -- "If you would change kings we would fight it once again and beat you."
(More "Extracts" next week.)
=========================
THE WAR.
-- -- -- --
BRITISH LINE SLIGHTLY ADVANCED
-- -- -- --
RUSSANS DEFEAT STRONG COUNTER-ATTACKS.
-- -- -- --
FURTHER LOCAL CASUALTIES.
-- -- -- --
From April 15 to June 30 the Franco-British troops have, on the Western front, made 63,222 prisoners, of whom 1,278 ure officers. The material captured comprises 509 heavy and field guns, 508 trench guns, and 1,318 machine-guns.
The latest Communique from Field-Marshall Sir Douglas Haig states that the British line has been advanced slightly on a front of 600 yards south-west of Hollebeke (north-west of Wytschaete). Successful raids were carried out in the neighbourhood of Wieltje and Nieuport, some prisoners being captured. Artillery activity prevailed on both sides at a number of places along the front.
On the French front artillery duels occurred north of the Aisne, in Champagne in the region of Mount Cormillet, and on the Meuse round Hill 304. During the day 400 shells fell in Rheims.
The fighting which commenced so brilliantly in the early part of the week by the Russian army has waned considerably and the chief item recorded to-day is the defeat by them of two counter-attacks east of Brzezany and east of Lipitsa Dolna. The prisoners taken by the Russians since Sunday total 300 officers and 18,000 men, with 29 guns and 33 machine guns.
The Italians report greater artillery activity on the whole of the front with patrol raids east of Gorizia and the repulse of an Austrian attack south of Castagnavizza.
-- -- -- -- --
ANOTHER AIR RAID ON ENGLAND.
Another aeroplane raid on England took place on Wednesday, Harwick, an Admiralty port 70 miles N.E. of London being attacked. Although there was no one killed in the borough, 11 persons met their deaths in the vicinity, and 36 were injured. The raiders were driven off in a few minutes, and on their return journey to Belgium two of them were destroyed by British airmen from Dunkirk. The number of people killed in air raids on England now exceeds 600 and the injured 1,500.
As a set-off against this, British naval airmen have again attacked Bruges docks and ammunition stores in Belgium with good results, several tons of bombs being dropped.
WEEK'S SHIPPING LOSSES.
British ships sunk last week show a decided decrease on previous weeks in steamers, 15 over 1,600 tons and 5 under that figure going down, as against 21 and 7 last week. On the other hand, 11 fishing craft were sunk, as against none in each of the two weeks before. Since the beginning of the unrestricted war on merchantmen 19 weeks ago 388 British vessels over 1,600 tons, 153 under that tonnage, and 140 fishing boats have been destroyed.
-- -- -- -- --
KILLED.
Corporal Bob Corken, Machine Gun Corps, Lisburn.
Sergeant James Irwin, R.I.R. (M.G.S.) Lambeg.
Rifleman James Morrow, R.I.R., Lisburn.
Rifleman H. Addis, R.I.R., Lisburn.
Rifleman Wm. Watson, R.I.R., Dunmurry
DIED OF WOUNDS.
Rifleman W Chapman, Lisburn.
WOUNDED.
Lieut. E. Brown.
-- -- -- -- --
Lieut. E. Brown.
Amongst those wounded at Messines was Lieut. E. Brown, son of Mr. Robert Brown Pond Park, Lisburn. His wounds were fortunately not of a serious nature, and, although twice struck by shrapnel on the same day, he did not relinquish duty, taking over the command of the company after his captain had fallen. Lieut. Brown served his apprenticeship in the firm of Messrs. William Heney and Co., Brunswick Street, Belfast, with whom he was for seven years before he obtained a commission in the 11th Battalion R.I.R. (South Antrim Volunteers) shortly after the formation of the battalion. He is a playing member of Lisnagarvey Hockey Club.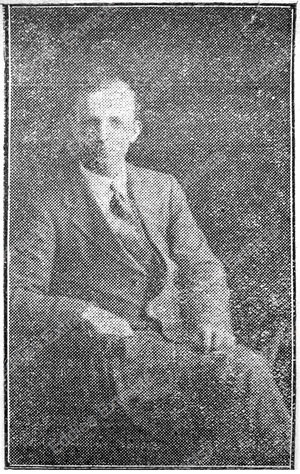 Lieut. E. Brown.
-- -- -- -- -- -- --
Corporal Bob Corken, Machine Gun Corps, Ulster Division, is the third son of Mr. and Mrs. James Corken, Antrim Road, Lisburn. Prior to his enlistment, at the outbreak of war, he was employed in the office of Messrs. Abraham Neill and Co., Ltd., Castalia Mills, Belfast. Further than that he was severely wounded on the evening of the 1st July, 1016, and started off alone to try to go back to a dressing station, no news has been received of him by his family. He was posted by Machine Gun Corps Record Office as "wounded and missing," and it is now officially assumed that he has been killed.
Official intimation has ben received by the relatives of Sergeant James Irwin, R.I. Rifles, Lambeg, to the effect that that soldier was killed at Messines on the 7th June. Sergeant Irwin was a respected member of Lambeg L.O.L. 138, and in our obituary columns to-day the Lodge publishes on expression of regret at his loss.
Rifleman H. Addis, and Rifleman Jas. Morrow, R.I.R. (South Antrim Volunteers), both of whom were posted as missing following the glorious opening of the battle of the Somme, are now presumed to have been killed. Both were members of Pond Park Red Cross Preceptory, No. 13, and before the war were enthusiastic members of the Ulster Volunteer Force.
Rifleman William Watson, Royal Irish Rifles, killed in action on 8th June, was a son of Mr. James Watson, Colin, Dunmurry.
Rifleman William Chapman, R.I.R. (South Antrim Volunteers), 8 Ballynahinch Road, Lisburn, has died of wounds received at Messines. Prior to the war he was a member of the U.V.F.
-- -- -- -- --
OFFICIALLY LISTED THIS WEEK
KILLED.
7235 Rifleman J. H. Scott, R.I.R., Hillsborough.
WOUNDED.
25184 Private D. Patterson, Royal Irish Fusiliers, Hillsborough.
18192 Rifleman R. J. M'Bride, Hillsborough.
4669 Rifleman P. M'Allister, R.I.R., Lisburn.
4636 Rifleman S. Martin, R.I.R., Lisburn.
-- -- -- -- --
CRUMLIN AND GLENAVY VOLUNTEERS.
PRESENTATION OF CERTIFICATES.
A very interesting, and to many a memorable, ceremony took place in Crumlin on Saturday, namely, the presentation of over 60 certificates of honour to the near relatives of men from the town and neighbourhood who, at the outbreak of the war, volunteered for active service. The proceedings which were arranged by Mr. T. J. English, Lisburn, were held opposite the courthouse in the main street, and attracted a large crowd of the inhabitants. The band from the depot of the Royal Irish Rifles attended, and under the directorship of Mr. Allen, bandmaster, contributed an entertaining programme of martial and popular music.
Colonel E. S. M'Clintock, J.P., Glendarragh (who was accompanied by Mrs. M'Clintock, and his gallant son, Lieut.-Colonel Stanley M'Clintock, D.S.O., Gordon Highlanders), presided.
Rev. J. A. Canning, LL.B., by request, explaining the object of the gathering, said they were met to receive at the hands of those in authority recognition of the worth of their lads who had loyally and voluntarily gone forth to fight for our great empire, for liberty, for civilisation, for upholding the doctrine of our common Christianity -- in a word, for the thing that made life truly worth living for. There were flags flying in many places in Ulster that day, but there was one he would like to unfurl, that was a flag inscribed "Our Boys." They were proud of them all, from the lord of the soil to the lads who had left the shadow of the humblest rooftree. They were proud of Colonel Pakenham, and they were filled with pride at having with them another distinguished Crumlin man in the person of Lieutenant-Colonel M'Clintock, who had won by his gallantry in the field one of the blue ribbons of the British Army (Applause. He concluded an impressive address by calling upon the colonel to distribute the certificates.
Colonel M'Clintock, D.S.O., who was given a hearty reception, said it was with great pleasure he accepted the invitation to distribute the cards to the relations of the men they had sent out to the front. Regarding the men, well, they were doing their best -- that was all. As for those who had to stay at home -- the womenfolk -- were concerned, they had done as much by voluntarily sending out the men. He hoped they would see them back again. Some, he was sorry to say, would not return, and his heart went out to the bereaved relatives.
The following were then handed honour cards in respect of their soldier relatives -- Mrs. J. Christie, Mrs. Catherine Clarke, Mrs. D. Lindsay, James Fleming, Mrs. Susan Neeson, Mrs. M. A. M'Conkey, Mrs. Ellen Higginson, Mrs. M. J. Williamson, Mrs. Margaret Dawson, Mrs. Margaret Cosgrove, Mrs. Ellen M'Kee, Mrs. Jane Lindsay, Mrs. Minnie Magee, Mrs. Mary Lindsay, Mrs. S. J. Gray, sen. (2); Mrs. S. J. Gray, jun, Mrs. Margaret Gray, Mrs. Rebecca Pritchard, Mrs. C. Dalton, Mrs. Mary Harbinson (aunt), Mrs. Agnes M'Cormick, Mrs. Martha Heaney, Mrs. Mary Patterson, Mrs. Mary Harbinson (mother) Mrs. Mary Lewis, Mrs. Sophia M'Clelland, Mrs. Mary Johnston, Mrs. Rose Robinson (sister), Mrs. Rose Robinson (cousin), Mrs. Elizabeth Robinson, Mrs. Sarah Farr, Mrs. Rachel Ayre, Mrs. H. Nicholl, Mrs Elizabeth Nicholl, Mrs. Elizabeth Nicholl, Mrs. Minnie Dalton, Mrs. Margaret M'Cartney, Mrs. Agnes Logan, Mrs. L. Logan, Mrs. Harriett M'Gann, Robert M'Quilland, Jas. Fleming.
Glenavy -- Mrs. Adams, Mrs. Ellen Crowe, Mrs. Sarah Graham, Mrs Robert Bell, Mrs. Katherine Bell, Mrs. Marsden, Mrs. Watson, Mrs. B. Harbinson, Mrs. Mary Bell (mother), James M'Neice, Mrs. L. Esdell, Mrs. J. A. M'Cord, Mrs. Christie, Mrs. M. Harbinson (wife), Mrs. M. Harbinson (mother), Mrs. Mary Bell (wife), Mrs Watson, Mrs. Clendinning, Mrs. T. Steele, Mrs. S. Johnston, and Mrs. Watters.
Mr. English having intimated that certificates could be obtained free by all who applied for them, and who were entitled to receive them.
-- -- -- -- -- -- --
Captain Hallum, representing the officer commanding the 83rd Recruiting Area, first thanked Mr. English for the work he had done in connection with getting the honour certificates for that district. He also thanked Colonel M'Clintock for undertaking their distribution in Crumlin that afternoon. To use his (the captain's) own words, he then "put in a word for recruiting," expressing the hope that those proceedings would have the effect of stirring them up. Crumlin had done well in the early part of the war but there had since been a regrettable falling off, and gaps in the Ulster Division had necessarily to be filled up by men from Great Britain. They had all heard the refrain, 'It's a long, long way to Tipperary'. Yes, it was, but he could tell them it would be a short, short way if the enemy could land in Great Britain to come over to Ireland. Concluding, the captain made a strong appeal for more recruits.
The Chairman afterwards conveyed a vote of thanks to the band, the proceedings closing with the National Anthem.