Deaths
ANDERSON -- October 29, 1918, at her residence, 80 Hill Street, Lisburn, Anne Jane, widow of the late Johnston Anderson, Canary, County Armagh. The remains were much-loved mother were interred in Lisburn Cemetery on Thursday evening. "With Christ, which is far better." JOHN and ANNIE ANDERSON.
CLARKE -- October 31, at her father's residence, Largymore House, Lisburn, Mary Helen Clarke, aged 14 years. Funeral to the family burying-ground, Blaris, to-morrow (Saturday), 2nd inst., at 1 o'clock. ROBT. H. CLARKE.
WARING -- October 31st, 1918 (suddenly, of pneumonia), at his residence, 15 Smithfield, Lisburn, James Waring. Funeral to Derriaghy Churchyard to-morrow (Saturday) at 2-30 p.m.
LABOUR MECHANICS L.O.L. 557.
The Members of above are requested to attend the funeral of the father of respected member, Bro. Quartermaster-Sergeant Thomas Waring, on to-morrow (Saturday), 2-30 p.m. EDWARD MATEER, W.M.; WILLIAM J. IRVINE, Secy.
Roll of Honour
CLAY -- Killed in action on Sept. 29th, 1918, 11237 Co. Q.M. Sergt. Thomas Clay, Trench Mortar Battery, Royal Inniskilling Fusiliers, eldest son of Mrs. Clay and the late Thomas Clay, Post Office, Lambeg. Deeply regretted by his sorrowing Mother, Sisters, and Brothers.
M'GREEVY -- Killed in action, October 8, 1918, Private Stanley M'Greevey, Royal Inniskilling Fusiliers, dearly-loved son of Patrick and Katherine M'Greevey. Deeply regretted by his sorrowing Father, Mother, Sister, and Brothers. 25 Llewellyn Avenue, Lisburn.
M'ILROY -- Killed in action (after four years' service), Private Alfred Henry M'Ilroy, Royal Irish Fusiliers, second son of James M'Ilroy, 45 Avenue Road, Lurgan, and grandson of the late James M'Ilroy, Thorn Cottage, Lambeg, aged 23 years. Inserted by a sorrowing Father, Mother, Sisters, and Brothers (one on active service).
WATERHOUSE -- Killed in action on Sept. 2nd, 1918, Pte. A. Victor Waterhouse, Canadian R.A.M.C., youngest son of the late Abraham Waterhouse, Lisburn.
Clippings
SOME EXTRACTS FROM THE
RECORDS OF OLD LISBURN
AND THE MANOR OF KILLULTAGH.
-- -- --
Edited by JAMES CARSON.
-- -- --
CVII.
-- -- --
RAILWAY STREET PRESBYTERIAN CHURCH, LISBURN.
Extract from Address delivered at the Jubilee Meeting of the Congregation, November 16th, 1910.
Practically almost all those who, fifty long years ago this very month, banded themselves together to form a new church, have passed away to their eternal rest. If we could bridge the years -- those fifty years so full of life and action and change -- and transplant ourselves in vision back to those days of the birth of this church, what should we find? We would see a small but ardent band of men and women, still glowing with fires of the great Revival of 1859, going out from a large and crowded congregation, seeking a place where they might assemble themselves together to worship their God.
Their first place of meeting was in the hall in Castle Street -- granted by the kindness and consideration of Jonathan Richardson, of Killeaton, all honour to his memory. Here for almost three years our forefathers worshipped -- and while in these humble surroundings, and struggling under difficulties and opposition, they give a call in 1861 to the Rev D. J. Clark, the first minister, who for seventeen years faithfully served his church and people, and died in the year 1878.
A permanent building in which to worship was now a first requisite. Pastor and people resolutely set about procuring a suitable site. Here, almost insurmountable difficulties confronted them. Deputations waited on, and influence was brought to bear on the then authority who practically controlled the land of Lisburn. Even Drs. Cook and Morgan intervened on behalf the people. All, however, was of no effect; the fiat had gone forth -- "From Dunmurry to BAllinderry not one foot of ground shall be granted for such a purpose." But Presbyterians are a dour race, and not easily beaten. Thwarted in one direction, the congregation at once turned its attention in another. The present site, fortunately, was in the market, being one of the few sites in the town uncontrolled by the territorial autocrat, and this small and comparatively poor body of men actually purchased at a cost of £350, or £6 5s per foot. On March 29th, 1863, the foundation stone of the new church was laid by John Lyttle, Mayor of Belfast, and the church was completed sufficiently the same year to enable worship to be celebrated theirin. The cost of the building amounted to some £2,000.
During these early years Wm. Barbour, of Hilden, was a tower of strength to the young church. His assistance was practical and personal. As an illustration, when the people were making a special effort to lighten the burden of debt hanging over them, he made the generous offer of that for every pound raised for this purpose he would contribute another; this resulted in a cheque from Mr. Barber for £456.
The first session was appointed in 1868, when the following accepted office:-- Henry Colvin, Frederic Duncan, John Ellison, David Graham, Robert Henry. In 1871 a further appointment was made of John Neill, Alexander Davidson, John Sloan. John Ellison was appointed clerk of session in 1868, and faithfully served another office for a quarter of a century. His successors in office were John Butler, H. G. Larmor, and W. J. Fraser. In 1883 there were further additions to the session -- Thomas Dickson and James Kerr; in 1888 John Butler and J. H. Vint; in 1894 James R. Boyd, S. M. Greer, David Kilpatrick, John M'Clung, H. G. Larmor; in 1904 John Dunlop, John L. Rentoul, M.D.; W. J. Fraser, D. M'Cluggage, John M'Kittrick.
When Mr. Clarke died in 1876 he left as his monument and the temporal fruits of his ministry the new church, the schools at rere of same, the manse in Railway Street, and the house adjoining. Notwithstanding the strenuous and successful efforts made by Mr. Clarke to lighten the burden of debt on the congregation, there was handed over to his successor liability of some £1,260.
The first committee was appointed November 13th, 1860, and consisted of -- W. J. Harvey, John Anderson, Francis Smith, David Graham, Andrew Todd, Henry Colvin, James Meneilly, Hugh Brownlee, Wm. Beggs, Wm. Innis, John M'Clung, James Chambers, Robert Edmondson. Francis Smith, secretary; W. J. Harvey, treasurer; David Graham, chairman of committee.
On the 17th March, 1865, John Sloan, junior, was appointed secretary, and George Pelan treasurer. For reasons which do not appear, they only remained in office a few months, when Stewart Sloan was appointed secretary and William Paterson treasurer. In 1870 Alexander Davidson appears as secretary and John Neill treasurer. Mr. Davidson, of his demise, generously left £100 towards church repairs. John D. Hamilton's name appears jointly as secretary with Alexander Davidson from 1873 to 1888, followed by James R. Boyd in 1889, James E. Sloan in 1899, J. L. Rentoul, M.D., 1903, George Duncan, 1906.
In 1875 John M'Clure was appointed treasurer, succeeded by Hugh Shaw, who held the office for twenty years, and the present treasurer, H. G. Larmor, who has acted since 1900.
The Rev J. L. Bigger's pastorate extended over six years -- from October, 1879, till July, 1885. He was a man greatly beloved, and his transference to a professorship in Magee College, Derry, was felt, at the time, as a serious loss to the congregation. At the date of his installation in Railway Street -- 1879 -- he fell heir to congregational debt of £1,260.
when he resigned the charge in 1885 the debt was reduced to £290. During Mr. Bigger's ministry the wall round the church property was built and some other minor improvements made, amounting to £400, so that some £1,400 was raised for reduction of debt and church extension in his time.
The present pastor, the Rev. R. W. Hamilton, M.A., was installed October 8, 1885, coming from Burt congregation, Co. Donegal. The congregation has been in existence for 50 years, and Mr. Hamilton has been in charge for exactly half of that period.
(To be Continued.)
=========================
GLORIOUS WAR NEWS.
-- -- -- --
TURKEY DOWN AND OUT.
-- -- -- --
AUSTRIA ASKS FOR ARMISTICE.
-- -- -- --
The war news continues to be glorious, and the end may be nearer than most people believe. Turkey is down and out. The Home Secretary announced yesterday in the House of Commons that an armistice between the Allies and Turkey was signed on Wednesday night, and came into force at noon yesterday. The terms include free passage for the Allied fleets through the Bosphorus to the Black Sea, the occupation of the forts on the Dardanelles and Bosphorus, and the immediate repatriation of all Allied prisoners of war.
The "Daily Express" says:-- The British fleet has passed up the Dardanelles! The capitulation of Turkey has been certain for days, but the presence of warships flying the white ensign off the Golden Horn is the dramatic demonstration that Germany has indeed lost the war. The great Eastern Empire that she has plotted and fought to create now passes away into the might-have-been.
The "Daily Mail" says:-- Single-handedly Great Britain has conducted this "sideshow" -- while fighting on seven other fronts -- through defeat, through loss to final victory, with that iron tenacity which has ever marked our people.
-- -- -- -- -- -- --
AUSTRIA IN A BAD WAY.
The Anglo-Italian drive in Italy continues with brilliant success. The Allied troops, still sweeping forward along the whole front, have liberated many important towns and villages, including Asiago, Vittorio, and Oderzo. Up to the present over 50,000 prisoners have been taken, and already more than 300 guns have been captured.
The Austrian Commander-in-Chief has sent a deputation under the white flag into the Italian lines, asking General Diaz to grant an immediate armistice. The King has sent a telegram to the King of Italy congratulating him upon the triumph which has been achieved.
On the British Western front yesterday the Second Army attacked south-west on Audenarde, capturing all its objectives and 1,000 prisoners. Our airmen established a record in air-fighting, crashing 64 German machines.
The chief fighting on the French front was at the St. Fargeux Plateau, where the enemy was counter-attacking strongly but unsuccessfully.
-- -- -- -- -- -- --
KILLED IN ACTION.
Captain H. G. Morrow, M.C., R.I.R.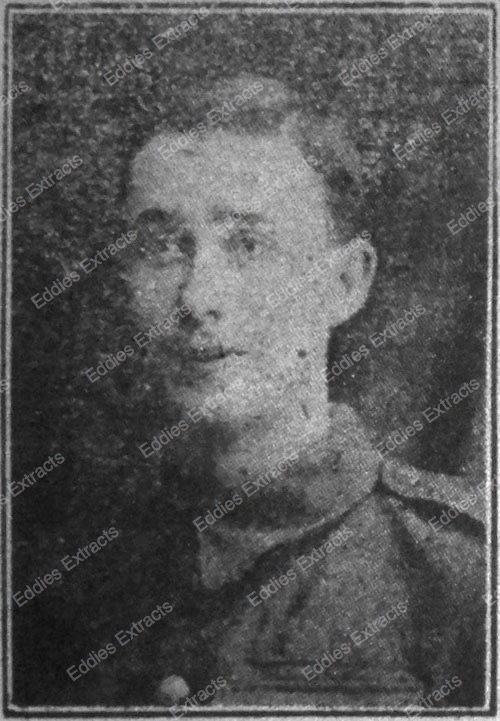 Captain Hugh G. Morrow, M.C., Royal Irish Rifles, killed in action on 20th ult., was the only son of Mr. Andrew Morrow, Balmoral, Belfast, and formerly of Lisburn, secretary of the County Down Committee of Agriculture. This officer served his apprenticeship with Messrs. Ross Bros., Ltd., Linenhall Street, Belfast, and obtained his commission in July, 1916. For his gallantry at the battle of Cambrai in November, 1917, he was awarded the M.C. He was a popular member of Lisnagarvey Hockey Club. His colonel was killed on the same day. His major, writing to Mr. Morrow, says:--
He fell at the head of his men, gallantly leading them against a machine gun which was holding up the advance. He was well ahead of his men when he was shot. He will be much missed in the Battalion, in which he was very popular with all ranks. The minerals company had the very highest opinion of him both from the point of view of his bravery and skill as a leader, and also from the personal point of view, he died a soldier's death at the head of his men, and fell fighting in the greatest cause man has ever fought for.
Co. Q.M.S. Thomas Clay, R.I.F.
Company Quartermaster-Sergeant Thomas Clay, Royal Inniskilling Fusiliers (T.M.B.), elder son of Mrs. Clay, Post Office, Lambeg, was killed in action on 29th Sept. Deceased was formerly a member of the Tyrone U.V.F.
Capt C. W. Milne, writing to Mrs. Clay from the battlefield, states that death was instantaneous, and her boy had to suffer no pain. He adds:--
Your song has been a very good soldier, and a great favourite with everybody, and all his chums wish me to convey to you an expression of their sincere sympathy. It will be some comfort to you at this time to know he made the supreme sacrifice in the service of his country. I deeply regret his death, and I hope you will derive some comfort from these few lines.
A brother of the soldier, Private Jack Clay, made the spring sacrifice 1916.
Private Stanley M'Greevey, R.I.F.
Private Stanley M'Greevey, Royal Inniskilling Fusiliers, killed in action on the 8th ult., was the son of Mr. Patrick M'Greevey, Llewellyn Avenue, Lisburn, who has for a lifetime been employed at Hilden. Private M'Greevey was a tailor to trade, and worked in Belfast. He enlisted in January, 1917, and saw service in Egypt and Mesopotamia. Who was home on leave a few weeks ago, and had only shortly returned to France before he was killed.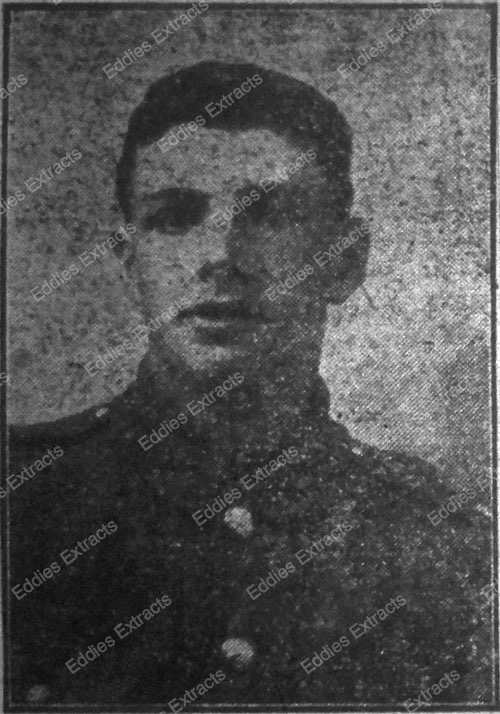 Q.M. Sergeant Edward Kelly.
As we go to press we learn that Q.M. Sgt Edward Kelly, Duke of Cornwall's Light Infantry, son of Mr. William Kelly, Ballynahinch Road, Lisburn, has been killed in action. Q.M.S. Kelly was a clerk in Mr. D. B. Simpson's office when the war broke out. He listed on the 11th R.I.R., but was claimed off. He re-enlisted, however, and soon gained promotion. For a time he held the distinction of being the youngest sergeant in the army. He was only seventeen years of age when he went to France in 1916, his parents then offering no objection.
-- -- -- -- -- -- --
WOUNDED.
Driver William Moncrieff, R.E.
Official notification has been received the Driver William Moncrieff, Signal Company, Royal Engineers, has been wounded (gunshot wounds right knee and left side), and is in hospital near Leeds. He has three years' service to his credit, and prior to enlistment was on the staff of County Down Asylum, Downpatrick, and was a member of the U.V.F. and Orange Institution. His son of Mr. William Moncrieff, Seymour Hill, Dunmurry.
-- -- -- -- -- -- --
SERGEANT-MAJOR S. WARING'S D.C.M.
The date for which Company Sergeant-Major Samuel Waring, Machine Gun Corps, was awarded the Distinguished Conduct Medal has been gazetted this week as follows:--
For conspicuous gallantry and devotion to duty. His unfailing cheerfulness and courage under all circumstances have gone a long way in maintaining a high standard of efficiency in his company. During the heavy engagement he was unflagging in is energies, and the fact that sufficient ammunition was forthcoming was due to his efforts.
Sergeant-Major Waring is a son of Mr. R. Waring (former mechanic, Island Spinning Co.), of Colin view, Mercer Street. C.M.S. Waring went to the front with the South Antrim Volunteers, R.I.R., In October, 1915, but was subsequently transferred to the Machine Gun Corps. He was wounded on the 16th April last. He is one of the old boys of Christ Church Company, Church Lads' Brigade, was a section leader in the U.V.F., and is a member of L.O.L. No. 152, Lisburn. Two of his brothers also volunteered for service, one in the navy and the other in the army.
-- -- -- -- -- -- --
NORTH IRISH HORSE COLONEL WINS THE V.C.
"Stick it, Men; Show Them Fight"
Wednesday night's "London Gazette" announced that his Majesty the King has been graciously pleased to approve the award of the Victoria Cross to the late Lieut-Colonel Richard Annesley West, D.S.O., M.C., North Irish Horse, attached Tank Corps --
For most conspicuous bravery, leadership, and self-sacrifice.
During an attack, the infantry having lost their bearings in the dense fog, this officer at once collected and reorganised any men he could find, and led them to their objective in face of heavy machine-gun fire. Throughout the whole action he displayed the most utter disregard of danger, and the capture of the objective was in a great part due to his initiative and gallantry.
On a subsequent occasion it was intended that a battalion of light tanks under the command of this officer should exploit the initial infantry and heavy tank attack. He therefore went forward in order to keep in touch with the progress of the battle, and arrived at front line when the enemy were in process of delivering a local counter-attack. The infantry battalion had suffered heavy officer casualties, and its flanks were exposed. Realising that there was a danger of the battalion giving way, he had once rode out in front of them and are extremely heavy machine gun and rifle fire and rallied the men. In spite of the fact that the enemy were close upon him he took charge of the situation and detailed non-commissioned officers to replace officer casualties. He then rode up and down in front of them in face of certain death, encouraging the men and calling to them: "Stick it, men; show them fight; and for God's sake put up a good fight." He fell riddled by machine-gun bullets.
The magnificent bravery of this very gallant officer at the critical moment inspired the infantry to redoubled efforts, and the hostile attack was defeated.
This gallant officer was the youngest son of Mr. Augustus George West, of White Park, County Fermanagh, who died in 1911, and a grandson of the late Rev. W. J. West, M.A., of Ederney, County Fermanagh, and Balix and Legcloghlin, County Tyrone. Born on 26th September, 1878, he obtained his first commission in Kitchener's Fighting Scouts. He became a lieutenant in the North Irish Horse on 4th September, 1914, and served with that regiment in France and Flanders, being twice mentioned in despatches, first by Viscount French, and on the second occasion by Sir Douglas Haig. He was seconded for service with the Tank Corps last year, and was awarded the Distinguished Service Order in the New Year Honours of 1918. Colonel West was killed in action on 2nd September last, under the thrilling circumstances described in the "London Gazette." He married on 16th July, 1909, Maude Ethel, second daughter of Mr. Henry William Cushing. Colonel West's eldest brother, Mr. Erskine Eyre West, Barrister-at-Law (formerly a captain in the Londonderry Royal Garrison Artillery), is Deputy Registrar of the Irish Land Commission. His second brother, Mr. Augustus W. West is an Assistant Land Commissioner.
-- -- -- -- -- -- --
GERMANS MEAN REVENGE.
The following story is told of a Belgian town which was persistently bombed by Allied airmen. The inhabitants, to the intense rage of the German garrison, were in the habit of turning out into the streets and enthusiastically cheering these demonstrations. One day a group of planes appeared at which no gun was fired from the earth. They dropped bombs exclusively on the Belgian quarters. The next day the town was placarded with notices: "The Belgian population is perfectly aware of the nationally of the airmen dropped bombs yesterday on --------." The incensed Germans were never never able to find out who printed and published this document.
=========================
"LEAD ON, MACDUFF."
Scottish Territorial Captures Colonel and Sixty Men.
In course of the chase of the Germans a Scottish Territorial scout was detailed to escort a small batch of prisoners to the rere, and he got on the way unexpected addition to his charge. He came on a "pill-box," besides which two German officers were standing. Instead of turning the tables by making him the prisoner and releasing their countrymen, they invited him into the miniature fort and gave him a good breakfast, explaining that they were the colonel and adjutant of a battalion. Thus they took him outside, turned out sixty men from buildings round about, and told him to "lead on." And the valiant "Tommy" astonished brigade headquarters with the size of his "bag."
This incident, which is thoroughly authenticated, is a striking illustration of the spirit of hopelessness that is beginning to permeate the German army. One combatant, writing of his experience in the chase, says he found the enemy very "fed up" but the machine-gunners put up quite a sporting fight.
An order issued by Hindenburg to officers of the German army, a copy of which has fallen into British hands, discloses a serious state of affairs. The General writes: "Only prompt and energetic action by all the chiefs can save us from the grave danger of ever-increasing indiscipline."
=========================
DEATH OF MR. JAMES WARING.
The sudden death yesterday forenoon of Mr. James Waring, Smithfield, Lisburn, caused a painful shock in the town and neighbourhood. Mr. Waring attended to his business on Tuesday in his usual health and cheerfulness. On the following morning he had an attack of influenza and this quickly developed into pneumonia. Dr. Murphy was in attendance, and everything humanly possible was done, but without avail, and Mr. Waring passed away about 10 o'clock yesterday forenoon.
Deceased was widely known in the North of Ireland, and was highly respected by all with whom he came into contact both in business and private life. He was passionately fond of a good horse, and there were few better judges of an animals qualities. He had warm corner in his big heart for little children, and many a youngster will miss his fatherly smile and general hand. The death of his sons, Jack and Willie, the former at home after a tedious illness and latter killed in action at the front, took more out of him than was seen on the surface, and a good deal to do with the undermining of his hitherto robust constitution. His only surviving son, Quartermaster-Sergeant Thomas Waring, is serving at the front with the Ulster Division. Sincere sympathy is felt with the widow and family in their trying bereavement.
The funeral takes place to Derriaghy to-morrow (Saturday) at 2-30 o'clock.