Deaths and Marriages.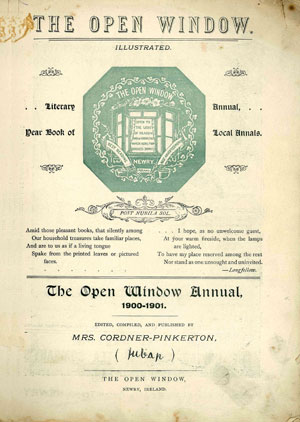 Deaths.

1899
Glenny -- Sept 12th, at Ballarat East, Victoria, Lizzie, eldest daughter of Henry Glenny, J.P.
Lyons -- Nov. 9th, at Newry, Frances K., youngest daughter of the late Edward Lyons, T.C.D.
Henry -- Nov. 20th, at Mourne Abbey, Kilkeel, Isabella, daughter of the late Thomas Gibson Henry.
Best -- Dec. 24th, at New Orleans, U.S.A., James Irwin Best.
Gordon -- Dec. 29th, Sarah Gordon, wife of William J. Gordon.
Cunningham -- Dec. 27th, at 20, Upper North Street, Newry, John Cunningham.
Spence -- Dec., at Melbourne, James Spence, formerly of Newry.

1900.
Hening -- Jan. 12th, at Newry, Annabella, eldest daughter of the late James Hening, Newry.
Guy -- Jan. 21st, at the Spa, Ballynahinch, Selina Frances, daughter of the late Geo. Guy, Newry.
Gordon -- Jan. 24th, Teresa, eldest daughter of William J. Gordon.
M'Arevey -- Jan. 30th, Catherine, widow of John M'Arevey, Hill Street.
Ferguson -- Feb. 10th, M. V. Ferguson.
Hollywood -- Feb 11th, at Fathom, Capt. Patrick Hollywood.
Shannon -- Feb. 15th, at Mountmellick, Phyllis Mary, second daughter of James J. Shannon, Ashton, Rostrevor.
Reynolds -- Feb. 19th, at Derramore House, Bessbrook, Edwin D. Reynolds.
Lucas -- Feb. 26th, at Kilkeel, Edward Lucas.
Lennon -- March 20th, Bridget, wife of Daniel Lennon.
Quin -- April 10th, at Sandycove, Jane A., youngest daughter of the late Patrick Quin, Castle Street, Newry.
Byrne -- April 13th, Mary Catherine, wife of Edward A. Byrne, Newry.
Little -- April 20th, Mary Jane, widow of Charles Little.
Harpur -- April 22nd, Hannah, wife of Robert Harpur, J.P., Divernagh House.
Walker -- June 15th, at Warrenpoint, Andrew Walker.
Shannon -- June 22nd, at Ashton, Rostrevor, Mary Elizabeth, wife of James J. Shannon.
Cunningham -- July 14th, at Rostrevor, Mary, widow of Michael Cunningham, Newry.
Gray -- July 13th, Rose, widow of Andrew Gray.
Weir -- July 26th, at Liverpool, Joseph Weir, Quay Cottage, Rostrevor.
Lowry -- July 1st, Jeremiah Lowry, ex-T.C. and P.L.G.
Greer -- July 19th, James Wm. Greer
Byrne -- Aug. 11th, at Dublin, Joseph J. Byrne, Imperial Hotel, Newry.
Jennings -- Aug. 29th, at Dublin, Kate Sophia, daughter of the late Charles Jennings, of Newry.
Livingston -- Sept. 10th, Martha, third daughter of Joseph Livingston.
M'Cracken -- Sept. 11th, at Sydney, N.S.W., Jane, third daughter of the late Robert M'Cracken, sen., of Newry, aged 88.
Marriages
1900.
Sinclair--Jones -- March 17th, at Brecon, South Wales, Harry Douglas Sinclair, second son of A. W. Sinclair, J.P., Bel(fast), formerly of Newry, to Nellie E., eldest daughter of E. Jones, Cradoc, Brecon.
O'Hare--Lamb -- June 11th, at Du(blin), Michael Joseph, eldest son of the late John O'Hare, T.C., Newry, to Gertrude, youngest daughter of the late Gerald Lamb, T.C., Longford.
Miller--Kernaghan -- June 16th, at Newry, James Miller, to Mary Jane, daughter of the late Thos. [-?-] Barrack St., Newry.
Alexander--Moore -- July 4th, at Newry, Herbert, eldest son of E. S. C. Alexander, Esq., Shipley, Yorkshire, to Sarah Jane, youngest daughter of the Rev. William Moore, B.D., Newry.
Devenish-Meares--Handcock -- July 6th, at London, John Frederick, Barrister-at-Law, eldest son of J. L. Devenish-Meares, Newry, to Harriette Frances, only child of R. A. Handcock.
Moore--Petit -- August 14th, at St. Anne's-on-the-Sea, J. Hunter Moore, Newry, to Edith May, youngest daughter of Joseph Petit, Handsworth Wood, Staffordshire.
Ross--M'George -- August 22nd, at Belfast, Rev. Edmond F. Vesey, to Olivia Gwendoline, eldest daughter of E. G. M'George, J.P., Belfast, formerly of Newry.
Lockhart--Fisher -- Sept. 13th, at Belfast, John Lockhart, Brooklyn, N.Y., to Helen, eldest daughter of Joseph R. Fisher.
====================================
The Death Roll.
Nothing is our own; we hold our pleasures
Just a little while, ere they are fled:
One by one life robs us of our treasures:
Nothing is our own except our dead.
They are ours, and hold in faithful keeping,
Safe for ever, all they took away.
Cruel life can never stir that sleeping,
Cruel time can never seize that prey.
Justice fades; truth fades; stars fall from heaven;
Human are the great whom we revere:
No true crown of honour can be given,
Till we place it on a funeral bier.
Only the dead hearts forsake us never;
Death's last kiss has been the mystic sign,
Consecrating love our own for ever,
Crowning it eternal and divine.
So when fate would fain besiege our city,
Dim our gold, or make our flowers fall,
Death, the Angel, comes in love and pity,
And, to save our treasures, claims them all
ADELAIDE A. PROCTER.
-- -- -- -- -- -- -- -- -- -- --
DEATH OF MRS. BAGOT.
MRS. BAGOT -- widow of the late Very Rev. Dr. Bagot, D.D. -- is not forgotten yet by many of our townspeople. To numbers her name will conjure up a past-day familiar face and figure in Newry streets, and with the figure of the lady will rise a vision of a faithful dog "Pepper" who always accompanied his mistress on her daily rounds, and was as well known as that mistress herself. During her residence in Newry, Mrs. Bagot devoted herself, by example and precept, to the service of those who required assistance. She was the Dean's second wife, and was the youngest daughter of the late Sir William Eliott, sixth Baronet of Stobs and Wells, Roxburghshire. She had reached her 91st year, and died on the 21st December last ('99), at 15 St. James' Road, Surbiton.
-- -- -- -- -- -- -- -- -- -- --
DEATH OF MRS. JOHN MITCHEL.
MRS. JOHN MITCHEL -- widow of the patriot -- died at her residence, Brigg's Avenue, Bedford Park, New York, on the 31st of December last (1899), The romantic story of this lady's life is well known, and her devotion to her husband, which carried her across the sea to his side when he was sentenced to transportation for alleged "treason felony," and banished to Australia. The fact of her being a Newry lady may have escaped many, but readers of THE OPEN WINDOW will remember that in the first number (See T.O.W., for '97-'98, "Echoes from Past and Passing Generations, by Iubhar." Page 52.) the record of the marriage of "John Mitchel of Newry, on the 2nd of the month (February), in Drumcree Church, by the Rev. David Babington, to Jane, only daughter of Captain James Verner, of Newry," is recorded. Captain Verner lived in Dromalane, and it was from his residence there that the romantic elopement of the young lady with her gallant lover took place. We refer our readers to William Dillon's life of John Mitchel for the details, of the interesting love tale. The Irish American concludes a notice of Mrs. Mitchel's death in the following words:-- "She was a woman of the most amiable disposition, attracting to herself all with whom she was brought into association; kind and gentle in her manners, yet, as events proved, capable of facing the sternest vicissitudes. Her death will be sincerely mourned in Ireland, where her memory will long be cherished as one of those who suffered much for the cause of Motherland."
-- -- -- -- -- -- -- -- -- -- --
DEATH OF VISCOUNTESS NEWRY.
THE VISCOUNTESS NEWRY died on the 6th January (1900), at her residence in London, aged eighty years. She was the widow of the late Viscount Newry, M.P. for Newry, who died in 1851, and eldest daughter of the late General the Hon. Sir Charles Colville, G.C.B.
-- -- -- -- -- -- -- -- -- -- --
DEATH Of MRS. O'CONNELL.
EVERYONE in Newry was sorry to hear of the death of Miss O'CONNELL, the highly-esteemed Head Mistress, for many years, of our Model School. Not long before her death, which took place on January 10th (1900), Miss O'Connell, on account of her health, retired from that position, and her friends hoped the leisure thus insured would re-instate her strength. Her predecessor, Miss Magrath (now retired and living in Belfast), was highly esteemed and most popular in Newry, both as a teacher and a friend; the place she vacated was not an easy one to fill, so marked was her ability, and so attached were her pupils to her -- but Miss O'Connell was not long here until it became evident that a successor worthy in every respect had followed, and ere long Miss O'Connell had the gratification of knowing that her place in the affections and respect of her pupils was firmly established. That affectionate respect she carried with her when she resigned, and leaves behind in many hearts who to-day, and always will, sincerely regret her loss as a clever teacher and a faithful friend. She was buried in Glasnevin Cemetery, Dublin.
-- -- -- -- -- -- -- -- -- -- --
DEATH OF SISTER MARY CLAVER MOORE.
WE regret to record the death of this lady, who was a member of the Catherine Street Convent of Mercy. She had accompanied the Rev. Mother Russell -- who was undergoing medical treatment -- to Dublin, and there caught the prevailing influenza, to which she succumbed, much to the sorrow of all who knew her. The deceased lady was a daughter of the late Dr. Moore, Dublin, and she was nearly related to the Russell family of Newry. She was interred in the Convent Cemetery here on January 18th, 1900.
-- -- -- -- -- -- -- -- -- -- --
DEATH OF REV. MOTHER MARY GERTRUDE O'HAGAN.
THIS Newry lady died in January last. She was the Superioress of St. Joseph's Convent, Lurgan, and her death caused much regret both in Lurgan and Newry, where she was well known and highly esteemed. She was eldest daughter of the late Charles O'Hagan, J.P. (at one time extensively engaged in the drapery business in Newry). At about twenty she entered the Convent of Mercy here, and remained in it until 1871, when she was transferred to St. Joseph's Convent of Mercy, Lurgan, to fill the then vacant position of rev. mother. Two of her sisters also entered the Newry Convent. One of these, in religion Sister Mary Xavier, died about three years ago, while the remaining and youngest one is at present in the Newry Convent of Mercy, known in religion as Sister Mary Regis. The deceased was sister of the late Mr. John J. O'Hagan, whose portrait in THE OPEN WINDOW series of "Past-Day Familiar Faces" last year, was highly valued by numbers of our readers.
-- -- -- -- -- -- -- -- -- -- --
DEATH OF DR. KEAN.
DR. HUGH J. KEAN, M.D., formerly of Newry, died at Adavoyle, on the 10th of March last (1900). Dr. Kean had been medical officer of the Meigh Dispensary district for ten years, and his decease was unexpected and much regretted. Prior to his appointment to Meigh he practised in Newry, and was a popular practitioner. A brilliant student, he distinguished himself in his medical course. He was a native of Newry, being a son of the late Mrs. Kean, cork-cutting factory, The Mall.
-- -- -- -- -- -- -- -- -- -- --
DEATH OF MR. G H. GARTLAN, B.L.
THE sudden decease of Mr. G. H. GARTLAN, B.L. (who was well known in and around Newry), in March last (22nd), was heard with much regret by a large circle of friends and acquaintances. Mr. Gartlan was the eldest son of the late G. H. Gartlan, J.P., of Cabra House, near Newry, who was such a familiar figure in Newry some years back. Mr. Gartlan was a member of the North-East Circuit, and for some years an assistant legal commissioner under the Land Act of '81. His death was painfully sudden, having been attending to his professional engagements the very day of the night on which he expired from heart disease, Mr. Alex. Gartlan, solicitor, Newry, is his brother.
-- -- -- -- -- -- -- -- -- -- --
DEATH OF MISS SWANZY.
THE name of SWANZY is endeared, through long association with Newry, to all its residents, and it was therefore with regret and surprise -- as Miss Swanzy's illness was not generally known -- that they heard of her death on March 23rd (1900), at Ivy Lodge. Miss ELIZABETH SWANZY, was the third daughter of the late Mr. Thos. Biddall Swanzy, who was a well-known citizen and merchant of our town, and who, for some time, represented its interests at the Town Board. She was a sister of the late Rev. T. B. Swanzy, M A., vicar of St. Mary's, whose name is so identified with the charitable, clerical and social life of Newry. Miss Swanzy was much beloved by all who had the privilege of her acquaintance. No good work ever made call in vain on her sympathy. A friend of the poor and of every worthy cause, she has left a beautiful memory to all who knew her. She was buried on Tuesday, the 27th March, in St. Patrick's Church-yard, Newry.
-- -- -- -- -- -- -- -- -- -- --
DEATH OF MRS. WILLIAMS.
WE have also to record the death of another member of an old and well-known Newry family, in the person of Mrs. Williams, daughter of the late Mr. John Henry Wallace, and sister of the late Mr. Henry Woodhouse Wallace, wine merchant, Hill Street (whose business was purchased, after his death in 1879, by Messrs. Duncan & Alderdice). The event of Mrs. Williams' death will have an interest for many Newryers who remember her family and that of her husband, the Rev. William Raphael Williams -- who was for some time curate of St. Mary's Church under the late Dean Bagot. Mrs. Williams had a rare charm of manner, which made her a favourite with all who came in contact with her. Some years ago she went with her sister, to reside in Warrenpoint, and there she died, Miss Wallace having preceded her. The lately appointed Archdeacon of Madras, the Rev. Arthur Acheson Williams, M.A., T.C.D., was her stepson. Mrs. Williams was buried in St. Patrick's, Newry.
-- -- -- -- -- -- -- -- -- -- --
DEATH OF MRS. JONES.
THE death of Mrs. JONES -- Mrs. Crossle's mother -- has taken from our town one of its most familiar personalities. Very familiar, indeed, was the stately figure of this lady, whose noble and womanly bearing was such a pleasure to look upon, that it was impossible to meet her and not comment upon it. Seemingly of a strong physical nature and sympathetic temperament, she was of those who are always in midst of active work for others. She was the widow of the late Mr. Philip Jones, of Nut Grove, Rathfarnham, County Dublin, and mother-in-law of our honoured townsman, F. C. Crossle, M.B. -- with whom she resided, and at whose residence, Trevor Hill, she died, after a suddenly contracted and brief illness, on April 13th, 1900.
-- -- -- -- -- -- -- -- -- -- --
DEATH OF MR. JAMES BURNS.
MR. JAMES BURNS, proprietor and editor of The Newry Reporter, died at his residence, Queen Street, Newry, on 12th May last. Although his death cannot be called premature, since he had reached "the allotted span," still to his townsmen it seemed as if it had come too soon, and the news of his demise produced a tangible feeling of regret here and all through the district.
Mr. BURNS came to Newry when a youth to serve his apprenticeship in The Newry Telegraph. In 1867 he established The Newry Reporter, which, under his clever editorial guidance, soon became a recognised force in the political life of our town. He was a Liberal in politics, but that did not make all Liberal politicians' ways acceptable to him, and as maintenance of honest conviction was vital to his erect character, he never hesitated to speak "the independent word." He was outspoken, but was gifted with that "universal solvent," -- a saving sense of humour, -- and he endeavoured to make the golden rule effective in his business, political, and private life.
A "self-made" man in the best sense -- not dependent on college for his well-trained mind or the store of information which he possessed; a great reader, versatile writer, and good talker; a man of broad sympathies and inclusive thought, he was widely popular and deeply appreciated, both by an extensive circle of personal friends and by the journalistic brotherhood -- a fact testified by the very numerous Press notices of his death.
He took a great interest in the welfare of our town and in the political problems of his country, and repeatedly gave editorial utterance and valuable advice touching the issues of the day.
Fond of old friends, old scenes, and old associations, he was of even and genial disposition, and his vigorous mental growth made him a steadfast disciple of the Larger Hope. The loss of a beloved son and daughter was an abiding sorrow, but could not disturb the settled calm of his well-ordered life.
The intellectual and logical face which looks from the previous page will be suggestive of pleasant memories for many of THE OPEN WINDOW readers, and will, we hope, serve to perpetuate the memory of one of our most gifted and best-known public men.
-- -- -- -- -- -- -- -- -- -- --
DEATH OF MRS J. J. SHANNON.
IT is not unfitting that THE OPEN WINDOW should pay some tribute to the memory of the late Mrs. JAMES J. SHANNON, a lady who had been resident amongst us for upwards of a decade. Mrs. Shannon came to Newry, from Mountmellick (Miss M. E. Shannon), about 20 years ago, when little more than a girl, as the wife of our well-known townsman, Mr. J. J. Shannon (director and managing partner, Fennell & Co., Ltd). Long time did not elapse ere Mrs. Shannon had numbers of appreciative friends and acquaintances. For a long time before her death, she battled vainly with the burden of failing health -- for she loved life, as we all do, and had more to live for than many. In the hope of establishing a convalescent stage, which she seemed to have reached, Brookside, her beautiful home here, was, in deference to doctors' suggestions, broken up, and she went to reside in Rostrevor. For some time improvement was apparent, and fond hopes of ultimate recovery cherished, but a sudden and peculiarly sad bereavement -- the loss by death of her second daughter, Phyllis (aged 14), a singularly sweet-tempered and joyous-hearted girl, during absence at school, from scarlet fever -- gave a shock from which she never rallied, and on June 22nd, at her residence, Ashton, Rostrevor, Mrs. Shannon followed her beloved daughter beyond the Bar. Patient in suffering, careful of others, and warm on all subjects in which she took an interest, she led a homelife, and her heart found its gladdest expression in the hospitalities of the home-circle. Kind and loving always, she is mourned by relatives with tenderest recollections and pleasant thoughts; and, sincerely appreciated as she was by a large circle of friends, those who knew and cared for her will always recall her memory as an inspiration to hope and courage, for she was indeed a loyal friend, lt sincere in sympathy and wise in counsel." Mrs. Shannon was buried in The Friends' Burying-ground, Bessbrook, on Monday, June 25th, 1900.
-- -- -- -- -- -- -- -- -- -- --
DEATH OF MR. SAMUEL FLEMIMG.
THE death of Mr. SAMUEL FLEMING, on 28th June last, removes one of Newry's oldest, best known, and respected business men. Apparently in his usual health, and attending to his business up to within a few hours of his decease, the sudden intelligence came as a great surprise in town, and called forth general regret. Mr. Fleming carried on an extensive plumbing and gas-fitting trade, and he was well known as a clever man of practical ability in his calling. He had the leading trade in that line for years, and enjoyed, as he had earned, a reputation as a man of thorough integrity, in whom his customers had the utmost confidence. He was an enthusiastic and loyal Freemason, and was held in high esteem by his brothers of the Craft. He leaves five daughters and two sons.
-- -- -- -- -- -- -- -- -- -- --
DEATH OF MISS MARY CLARE M'AREVEY.
SINCE our last issue of THE OPEN WINDOW death has been very busy, as we have seen, amongst members of our community. He has spared neither young nor old, nor do the beautiful lines by Adelaide A. Procter, with which we have opened the years local "Death-Roll," suffice to comfort the mourning hearts. No sadder death have we to chronicle than that which removed the young and promising life of Mr. J. J. M'Arevey's daughter, Miss MARY CLARE M'AREVEY. Absent from home, at school in the Sacred Heart Convent, Paris, at the time the final call came, her life had been hanging in the balance for five months, and her parents, who had been summoned, watched beside her from the first, in suspense and fear, with alternating gleams of hope as the young life (guided and aided by the most skilful physicians) seemed about to triumph over disease, and longed-for convalescence about to dawn. But on the 6th July, 1900, aged only eighteen, she passed onward. Highly accomplished -- a wonderfully perfect musician for her age, on the eve of the completion of her school education, absent from loved sisters and brothers at home, her death, even to outsiders, is peculiarly sad. In her home she was a devoted daughter and sister. Amongst her own people it was recognised that, for them, her beautiful character and radiant temper gave life and colour to all exterior things. Thus in the home of her nearest and dearest, she has left a gap for ever unfilled. Her remains were brought to Newry from Paris, and here she was laid to rest in the Old Chapel Burying-ground.
-- -- -- -- -- -- -- -- -- -- --
DEATH OF MRS. ATWATER IN CHINA
THE announcement that a Newry lady, her husband and family, were numbered among the Missionaries in China who met with terrible and tragical deaths, carried sorrow to a large circle of friends. Mrs. ATWATER -- formerly Miss ELIZABETH GRAHAM, of this town, daughter of the late Mr. Robert Graham, and sister of Mrs. Robert Adams and of Mr. David Graham, who so recently paid a visit to his native town from Chicago -- went in 1895 to Sheo-Yang, after a successful R.U. course; two years later she married the Rev. E. R. Atwater, a member of the American Mission Board. Of Mrs. Atwater's zeal and earnest work the very highest reports have been received, and may serve in some degree to illumine the dark cloud of sorrow in which the sad tidings of the untimely end of her children, her husband and herself, must have overshadowed her relatives.
"Fame counts her martyrs: unto them 'twas given
In flaming chariots to ride grandly into heaven!
Praise God for them, the kingly, the renowned;
Yet higher praise for these -- who dared and died uncrowned!"
-- -- -- -- -- -- -- -- -- -- --
DEATH OF MR. H. B. MOORHEAD, J.P.
AN honoured citizen -- a man of marked integrity, and a prominent business man -- Mr. MOORHEAD was eminently respected in the community. Although not participating in the public life of our town -- since he preferred to remain a private citizen -- he still watched the progress of Newry with interest, and was Justice of the Peace for both the Counties of Down and Armagh.
A peculiar loss has befallen the well-known firm of Henry Thomson & Co. in his death, while in Newry and the North of Ireland generally it is widely felt. His death was entirely unexpected, and came on Newryers as a great shock. It was understood that Mr. Moorhead, accompanied by his wife and younger son, had gone for his usual Continental holiday, and when on his return journey the intelligence reached Newry that he had taken seriously ill, public anxiety and sympathy was unusually keen. When it became known that Mr. W. H. B. Moorhead had been summoned, the worst was anticipated, and, shortly after, the death of Mr. Moorhead -- at the Grand Hotel, Calais on August 15th (1900) -- was announced. The cause was paralysis, induced by a clot of blood on the brain.
Mr. Moorhead came to Newry some forty years ago. He was a son of the late Dr. Moorhead of Hillsborough. Having chosen a commercial career, he joined his maternal grandfather, Mr. Hercules Bradshaw, J.P. (after whom he was called), in the management of Hillsborough Distillery. On the retirement of Mr. Bradshaw from business, Mr. Moorhead moved to Newry, and became a partner in the firm of Henry Thomson & Co. -- bringing with him the zeal and enthusiasm which ensures success, and the practical ability and business discrimination which wins confidence and esteem. He leaves behind in the mercantile world, and with his employees (among whom he was very popular), a reputation of which any man might be proud, and which his sons, who have taken up his position, may well strive to emulate.
Socially, he was a great favourite; a keen sportsman, he enjoyed out-door life as a recreation. Incidentally, we may mention that he was the intimate friend of the late Thos. D'Arcy Hoey, whose portrait also appears in this issue of THE OPEN WINDOW. His tastes were simple and unostentatious; and those who came in contact with him recognised the qualities of the quiet, courteous, genial and genuine gentleman.
His private life was consonant with his business and social habits. He married Miss Howe, daughter of the late Mr. John H. Howe, J.P., agent for the Marquis of Dufferin, and sister of the late Mr. T. S. Howe, J.P., agent for Lord Downshire. He had three sons, the youngest of whom died last year.
Mr. Moorhead has been separated from his family early: for death overtook him when only 64 -- just at an age when his family might reasonably have looked forward to a long enjoyment of his presence. But one inestimable consolation at least is theirs -- that best of all legacies -- a good name, and the memory of a pure character.
-- -- -- -- -- -- -- -- -- -- --
DEATH OF MR. JAMES AIKEN, J.P.
MR. JAMES AIKEN, J.P., for a long term Chairman of our local Board of Guardians, died after a protracted illness, at his residence, Carrickbracken, Camlough, on the 12th of August. Deceased was a self-made man, rising by his own ability and perseverance to a recognised position both in business and local public life -- in the former as a builder and contractor, and in the latter as Chairman of the P.L.G. and Chairman of the Newry Rural District Council (Co. Armagh No. 2). He was also appointed Justice of the Peace for the same county. He was held in much respect by all who knew him.
-- -- -- -- -- -- -- -- -- -- --
DEATH OF MR. THOMAS SEAVER.
THE death of this gentleman, which took place at Heath Hall, Killeavy, on the 11th of Sept. last, removes a member of one of the oldest families of this district. He spent the greater part of his life in Australia, and returned to his native place and to the house in which he was born (as reported in THE OPEN WINDOW for 1898) in 1897. He was highly esteemed by a large circle of friends and acquaintances.
-- -- -- -- -- -- -- -- -- -- --
DEATH OF MISS JEMIMA DAVIS.
MISS DAVIS was third daughter of the late Dr. W. A. Davis, -- once so favourably known in Newry, and still well remembered, -- and her death carries sorrow into a very large circle of friends and relatives. For a long time Miss Davis suffered acutely from rheumatism, and through it was denied the privileges of an active life, but her patience was perennial, and her unquenchable brightness of spirit endeared her to every one who knew her. She was endowed with infinite gentleness, warm sympathy, and a beneficent disposition, all of which contributed to a charm of manner which was felt by all who came into her presence. She died on October 19th, at her residence, Barrack St., and was buried in St. Patrick's Churchyard on the 22nd.
-- -- -- -- -- -- -- -- -- -- --
DEATH OF MR. TOM WALKER.
INTO several homes in Newry the dangers and possibilities of the South African War were carried only too vividly, by the departure of sons and brothers for the front as members of the Imperial Yeomanry; and, naturally, deep regret was expressed by all when the intelligence of the death of one of our local Volunteers reached Newry. TOM WALKER -- a son of the late Mr. A. R. Walker -- was among the first to offer himself for service -- giving up his chosen profession of the sea in order to do so. At the Battle of Lindley he was killed -- fatally wounded. The simple announcement of such an event does not carry with it any of the terrible realities attending it to those who are happy and safe at home; but the death of our young, ardent and popular townsman must excite genuine sympathy, and that of a very special kind.
-- -- -- -- -- -- -- -- -- -- --
DEATH OF MRS. DONALD STEWART.
AFTER a brief illness MRS. STEWART, one of Newry's most respected residents, died at her residence, Canal Quay, on the 22nd October. She was the eldest daughter of the late Mr. James Clark, architect and builder, of this town. Her loss will be keenly felt, both by her numerous immediate relatives and by many others of whom she was a valued friend. Her personal charity was constant, and she was always anxious to be of service to the suffering, and to ease the burdens of others. She leaves a large circle of sons and daughters and grand-children, by all of whom she was much beloved and is deeply regretted.
-- -- -- -- -- -- -- -- -- -- --
DEATH OF THE BISHOP OF DROMORE.
THE death of the MOST REV. DR. M'GIVERN, the Lord Bishop of Dromore, took place on Saturday, the 24th November, 1900, at Violet Hill. His decease was not unexpected as for some time his lordship had been in failing health. Dr. M'Givern was universally beloved by his flock, and regarded with respect and esteem by the whole community. His remains were removed to the Pro-Cathedral, Hill Street, on Monday, 26th, and the interment took place on Tuesday, 27th, amid every token of mourning and respect, in the Old Chapel Burying Ground. We regret that a more extended report of the deceased Prelate cannot appear in this issue of THE OPEN WINDOW, as the intelligence has reached us when already in the Press.
====================================
PAST-DAY FAMILIAR FACES.
"Memory still embraces --
Through lapse of years, through smiles and tears --
The old familiar faces"
REV. HENRY ALEXANDER (see page 76), minister of the First Presbyterian Church (Unitarian) for over 28 years, was held in the very highest esteem by members of every denomination. Came to Newry from Lancaster, but was a County Antrim man, and son of the Rev. Thomas Alexander of Cairncastle. He succeeded Rev. John Mitchel here in 1840, and it was during his ministry that the present church, Needham Place, was built (1853). Mr. Alexander entered largely into the life of Newry -- he was on the Committee of the Hospital and of the several Poor Relief Associations then existing, a Trustee of the Windsor Hill Schools, the Secretary of the Savings Bank for many years, and a leading speaker on the occasion of the opening of the Newry Model School -- the first in Ireland. He resigned the active pastorate of the church in 1865, and died in 1868. His remains found a fitting resting-place in the Old Meeting House Green, beside the graves of his predecessors -- Rev. Dr. Malcolm (see page 80) and Rev. John Mitchel, where also his wife is buried. She was a daughter of the late Mr. Grimshaw of Whitehouse, and aunt to the late Dr. Grimshaw of Dublin, Registrar General of Ireland.
-- -- -- -- -- -- --
RECOLLECTIONS of THE VERY REV. DR. LEAHY (see page 76), Bishop of Dromore, will be always with us. Of him it would be impossible to speak too highly. He was indeed one "in whom there was no guile." His memory is enshrined in the hearts of all his parishioners, and his name is held in the respect due to his character as a Christian man and cleric, his venerable age, and to his life and works, by the entire community. He lived to a great age -- and as his years increased his faith grew in cheerfulness and strength. The late Dr. Leahy was born in Cork, July 25th, 1802; joined Dominican Order, 1817; appointed Coadjutor Bishop of Dromore, 1854; and succeeded Most Rev. Dr. Blake, 1860. Died at Violet Hill, September 6th, 1890, aged 88.
-- -- -- -- -- -- --
THE name JAMES SPENCE (see page 76), was, in bygone years, well-known in Newry. His father was a grain merchant, and was one of the Town Commissioners in 1828. The family lived in Canal Street. Mr. Spence went to Melbourne in 1849, and died there on the 30th of Dec. last (1899). The paper containing notice of his death states he was "respected by all who knew him as an upright and conscientious gentleman."
-- -- -- -- -- -- --
ISAAC WILLIAM GLENNY (see page 76), another of the olden-day local men. Of him a correspondent writes, "He was Newry to the core." He was considered the handsomest man of his day, if popular tradition be true, and was widely known among the "masses" as "Purty Isaac Glenny." He resided in Castle St., then the best street of the town, and was in the corn business. He was born in 1765, and died 1841. The late Mr. Wm. Glenny, of Bridge St., was his son.
-- -- -- -- -- -- --
FREDERICK W. KIDD (see page 76), third son of the late Mr. Hugh Kidd, -- a name still remembered in our town, -- was associated with two of his brothers in the milling business here. The mills now known as "Walker's" Mills were formerly recognised as "Kidd's," and a bakery was at one time carried on in Mill Street by the firm. Mr. Frederick Kidd lived at Needham Place, in the house occupied at present by Mr. Gartlan's offices -- he removed to Dundalk when the firm was dissolved, and in 1884 he died there. The late Dr. George Kidd, the eminent physician of Dublin, was his brother; and the present Dr. F. W. Kidd of the same city is his son; and Mr. Hugh Kidd, who so recently paid a lengthened visit to his native town, was his eldest son, by his first wife, a Newry lady -- Miss Handcock, daughter of the late Mr. William Handcock, merchant.
-- -- -- -- -- -- --
No name is better known in connection with Newry than that of Corry, although none of the family now reside here. ISAAC CORRY, J.P., D.L. (see page 76), was eldest son of Trevor Corry, J.P., D.L., by Anna, his wife -- daughter of Savage Hall of Narrow Water Castle, County Down. He was one of the most popular men in Newry, and Mrs. Corry, his wife (Ellis, daughter of Henry Byans Kilfera, County Kilkenny), was equally so. The family originally came from Rock-Corry, County Monaghan, where Isaiah Corry was High Sheriff in 1712. For generations the family lived at Abbey Yard, and there the Isaac Corry to whom we allude was born in 1811, and died in 1869, He had one son and five daughters.
-- -- -- -- -- -- --
DR. MORRISON (see page 76), an old Newry favourite and familiar. He was physician to the Fever Hospital for 40 years, and his reputation as a surgeon had reached the adjoining counties. His advice and professional services were much sought. He was an authority on medical matters, and in our Free Library is to be found one of his works, "A Treatise on Tetanus, by John Morrison, M.D., 1816," Few leave behind a more respected name than Dr. Morrison.
-- -- -- -- -- -- --
JOSHUA M. MAGEE (see page 77), Crown Solicitor, died 4th Nov., 1875, was the father of our present clever young townsman, Mr. M J. Magee (see page 70), and from this fact alone the portrait we present will borrow a special interest. In his professional capacity Mr. Magee's reputation as a capable lawyer was well established, and as a citizen he was respected and esteemed. His offices were in Hill Street, where Messrs. Foster's tailoring department now stands.
-- -- -- -- -- -- --
RICHARD JEBB BROWNE, Solicitor (see page 77). -- Five-and-thirty years ago, Mr. Browne was a well-known and popular citizen of Newry -- indeed, no man was more favourably known in either professional or private relations. Of him The Newry Reporter of October 19th, 1876, says, "In his public capacity he was much beloved and respected by all who knew him -- scarcely less so by those for whom he reserved his 'hardest knocks' than by those with whom he was in accord. There was a dash and bonhomie; a chivalrous courtesy, an amount of good nature and genuine kindliness about the man that disarmed all resentment, even when what might be looked upon as large issues -- legal, personal, and political -- were trembling in the balance." His utter absence of bigotry, his toleration and respect for the honest convictions of others is still a proverb. We may add that a grandson of his, Lieutenant Dennis, of the 2nd Dublin Fusiliers, lost his life during the recent South African campaign. (The record is a sad one -- Lieut. Dennis was wounded, at Spion Kop -- returned to duty and shortly after succumbed to enteric. He was very young, and had only six months' experience of soldiering.) He was second son of Mrs. R. Dennis, at present of Cheltenham and formerly of Newry. Mr. Browne's son and namesake, who was so popular in Newry, is now a distinguished member of the N. W. Mounted Police, Canada. Mr. Browne lived at Needham Place, in the house where Mr. Hunter Moore, Solicitor, now has his offices. He died in 1876.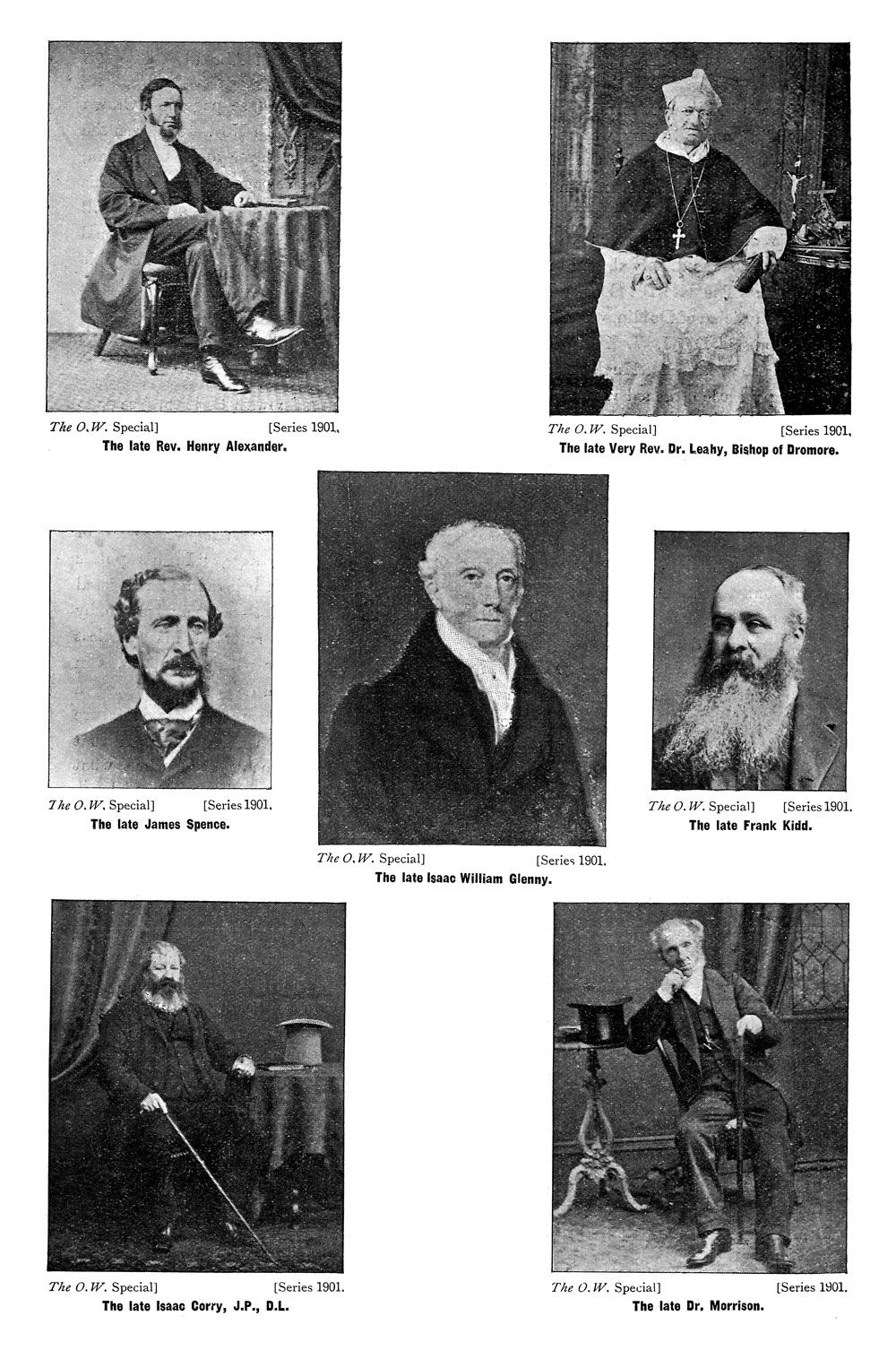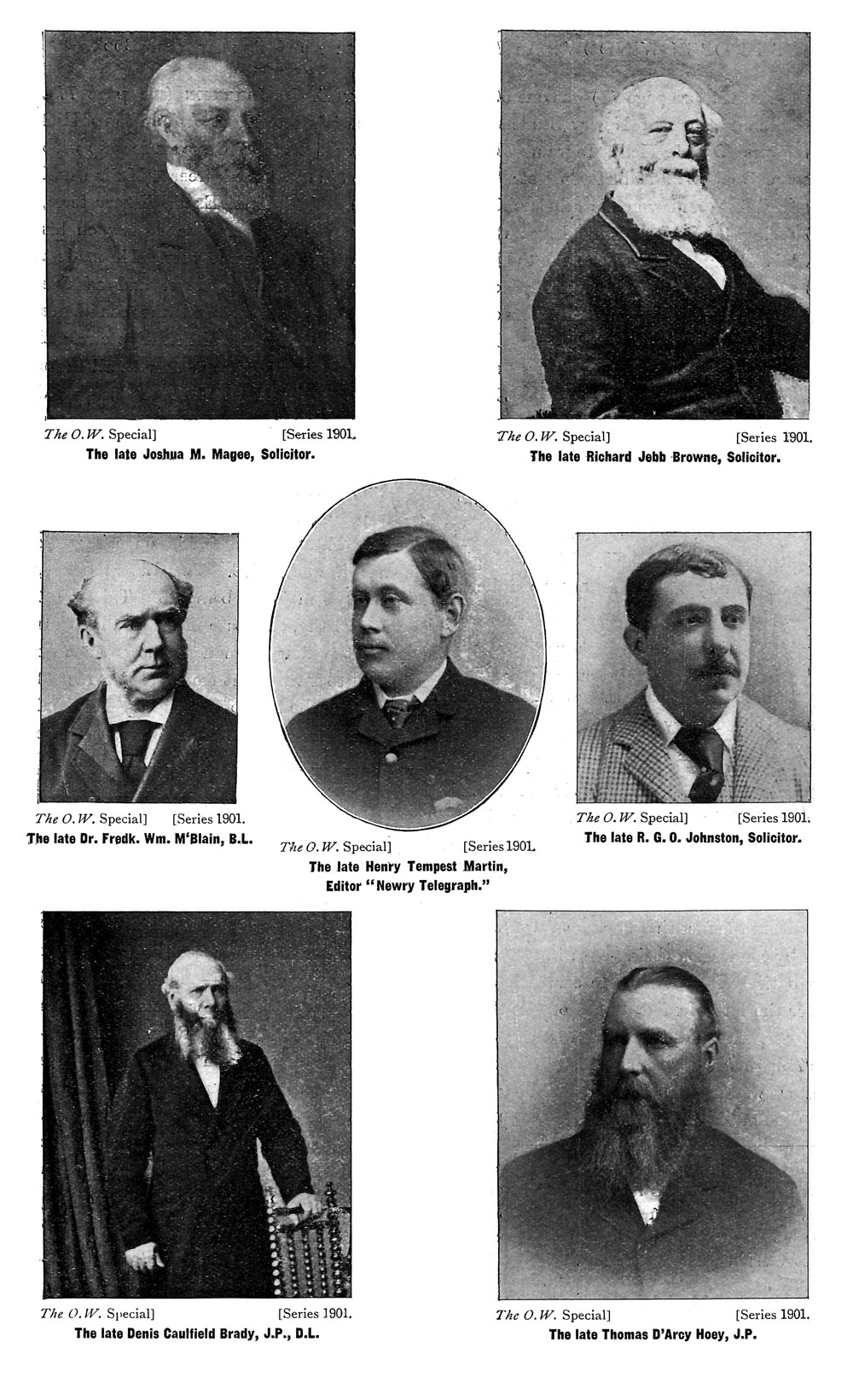 DR. M'BLAIN (see page 77) was one of the brilliant group of Newry Students of whom were Dr. J. Kells Ingram, Judge O'Hagan, Denis Caulfield Heron, etc. (In writing of these clever Newry-men, the editor of The Irish Monthly has recently said that "Fredk. Wm. M'Blain was as gifted perhaps as any of them, though his reputation did not get beyond the circle of his comrades of the legal profession.") He entered T.C.D., and won his scholarship in 1840, being 1st, and J. Kells Ingram 2nd. Took his B.A. 1842. Called to the Bar, Easter term, 1845, and was Crown Prosecutor for Co. Down, and supernumerary for other counties. In 1857 he took the degrees LL.B., and LL.D.; and in 1859 he contested the Parliamentary election here in the Liberal interest, against Mr. Peter Quinn, whose majority was 53. In 1874 he was chosen by the Farmers' Club of Co. Armagh to contest the representation of the county on Tenant Right principles. February, 1881, saw his appointment as one of the Divisional Magistrates of the city of Dublin, but he did not live long to enjoy this well-merited distinction, for he died on the 7th of Feb., 1882, at the comparatively early age of 61. Dr. M'Blain was a brother of the Misses M'Blain of Trevor Hill, Newry.
-- -- -- -- -- -- --
Everybody knew, everybody liked, and everybody regretted the early death of HENRY TEMPEST MARTIN (see page 77), the genial editor of The Newry Telegraph. He was a familiar figure in our streets for so many years that the fact that he was only a Newryman by connection (being born in Drogheda) was entirely forgotten. He served his time under the late Mr. Jas Burns of The Newry Reporter, afterwards passing to the staff of the Telegraph as reporter, ultimately becoming Editor, a position he filled with ability up to the time of his death on Nov. 3rd, 1893.
-- -- -- -- -- -- --
ROBERT G. O. JOHNSTON (see page 77), son of the late Mr. R. J. Johnston of Hill Street, served his term of apprenticeship with distinction in the firm of Greer & Mullan, and having passed his final Exam. Easter term, 1872, entered the profession of law on his own account in the same year. He made a name for himself as a clever and reliable Solicitor, and soon enjoyed the confidence and support of a wide and lucrative circle of clients. He was very popular with all those who knew him. He died in the height of his career in 1895.
-- -- -- -- -- -- --
DENIS CAULFIELD BRADY, J.P., D.L. (see page 77), contested Newry in the General Election of 1835, opposing Sir Thomas Staples, K.C. The Liberals won, Mr. Brady's majority being 28. This event is noteworthy, because Mr. Brady thus became the first Roman Catholic member returned to Parliament from the Province of Ulster since the time of James II. He lived in Bridge Street (now Brookside,, residence of the Rev. S. Smartt) with his relative, the late Mr. Denis Maguire, who predeceased him.
-- -- -- -- -- -- --
The death of THOMAS D'ARCY HOEY, J.P. (see page 77), is of comparatively recent date. He was principal of the firm of Matt. D'Arcy & Co.; and no man was better known in Newry. He was a keen sportsman, Master of the Hounds -- and well-known in racing circles as the owner of more than one race-horse of fame. The Rowing Club lost its warmest patron and most liberal supporter when he died. He purchased Dromalane House, spent a fortune on the grounds and residence, and threw the former open to the public. He died there on the 13th of November, 1886.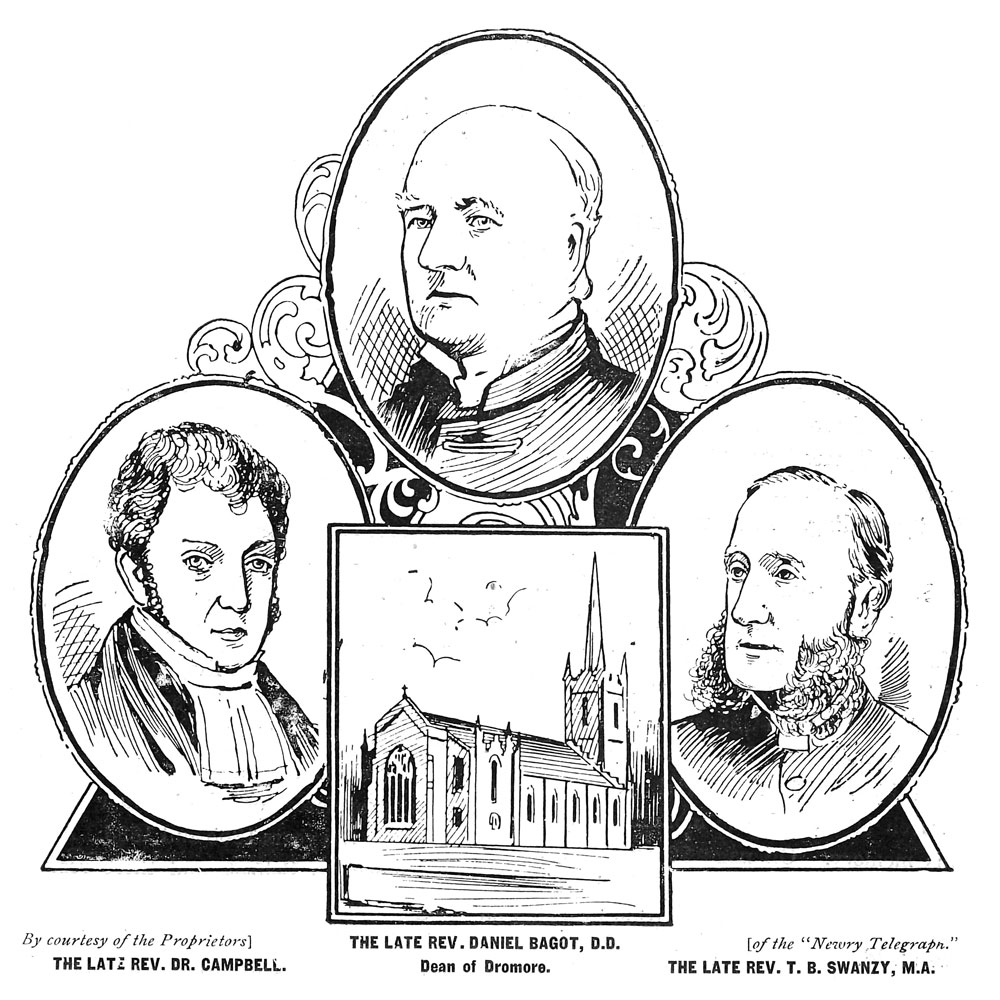 REV. CHARLES CAMPBELL, LL.D. (see above), was for a quarter of a century Vicar of Newry, and first of the line. Formerly Rector of St. Patrick's, and afterwards of St. Mary's, through whose influence and efforts it was built. A handsome memorial window in St. Patrick's Church, erected in 1859 to his memory, has during the past year had an explanatory brass tablet added, which gives the date of his death as 25th Feb., 1843, and there is a fine monument also in the gallery of St. Mary's Church, over the door where the organ used to be. A correspondent writing of this series of portraits on July 5th, 1900, says:-- "I think your record would be very incomplete without mention of the Rev. Dr. Campbell. He was beloved by high and low. He lived just opposite the Roman Catholic Cathedral, and I have a shadowy recollection of him when I was very tiny. He was very handsome, and I know from my grandmother that he was fearfully imposed upon through his kindness to the poor."
-- -- -- -- -- -- --
DEAN BAGOT (see above), was not a Newry-man, although often spoken of as such from his long residence here. Everyone knew him, and his reputation as a scholar and a preacher was deservedly high. He was a voluminous writer. He was popularly known as "the dandy Dean." His first marriage connected him with a Newry family, Dorothea, daughter of John Bingham, M.D., a niece of the Right Hon. Isaac Corry, M.P. for Newry; this was contracted in June, 1851. His second wife died recently, see page 98.
-- -- -- -- -- -- --
THE REV. T. B. SWANZY (see page 79), it is superfluous to speak. Like his predecessor and relative, the first Vicar of St. Mary's (Rev. Dr. Campbell), he was beloved by high and low -- known by everyone and by everyone respected. He was born in 1836. Only son of Mr. Thos. Biddal Swanzy of Corry Square (merchant) -- where no doubt many of our readers remember the Swanzy family residing, Mr. Swanzy died in 1884.
-- -- -- -- -- -- --
FOUR-AND-A-HALF decades ago the REV. DR. MALCOLM (see page 81) was one of Newry's well-known inhabitants and active citizens. For 14 years he was pastor of the First Presbyterian Church (Unitarian), whose church was then in High Street (now in Needham Place). In the burial ground of that church is a handsome monument erected to his memory. On page 90 will be found a view of this monument, and the inscriptions quoted will show the estimation in which he was held.
-- -- -- -- -- -- --
JAMES HENDERSON (see page 81) was born in Scotland in 1797. By purchase he became proprietor of the Newry Telegraph, and it has remained in his family ever since. He lived at Belle Vue, Mountpleasant; (at present the residence of Mrs. H. J. Wallace), and died in 1863.
-- -- -- -- -- -- --
GEO. M'CRACKEN, J.P. (see page 81), whose name is inseparably connected with the Savings Bank, having been Actuary of that institution for many years, a position he filled with honour to himself and great benefit to the depositors, in whose interests he was indefatigable. He was appointed successor to Mr. James Glenny, who emigrated to New Zealand. Mr. M'Cracken died January 28th, 1893, at his residence, "Altmore," Omeath, leaving behind a memory still cherished by all who knew him, as a man of inflexible integrity, sterling motive, and practical ability.
-- -- -- -- -- -- --
JAMES ALEXANDER HENDERSON (see page 81) was born in 1824 at Littleton,* at present the residence of Mr. David Martin, J.P. (Mr. George Henderson, grand-uncle of the present Sir James Henderson -- it may perhaps be added here -- built Cairn Hill, another of our local residences, and now occupied by Mr. R. A. Mullan.) He was the eldest son of a family of twelve, the only member of it now living being Mrs. Frank Coust Barker, who, with her husband and a large family, reside in a charming house at Blackrock, County Dublin. Mr. Henderson was proprietor of the Newry Telegraph between the years 1863 and 1883. Although he moved to Belfast, and there rose to the highest civic positions, and became proprietor of The Belfast News-Letter, Newryers always regard him as essentially one of themselves. He died at Belfast in 1883.
====================================
From Day to Day.
REV. JAMES THOMPSON'S FAREWELL SERMONS.
LAST year THE OPEN WINDOW recorded the call received by the Rev. J. THOMPSON, B.D. (of Sandy Street Presbyterian Church), from the congregation of Great James's Street Church, Londonderry. Mr. THOMPSON preached his farewell sermons to his Newry hearers on Sunday, December 17, 1899. The Church was crowded both morning and evening. His installation took place at Derry on January 16th.
-- -- -- -- -- -- -- -- -- -- --
CALL TO REV. W. G. STRAHAW, B.A., AHOGHILL,
From Sandys St. Presbyterian Church.
ON 18th April (1900), the Ballymena Presbytery met at Ballymena to consider a call to the Rev. W. G. STRAHAN, minister of First Ahoghill, from the above congregation. The following members of the former congregation supported the call:-- Messrs. D. Martin, J.P., R. A. Mullan, T. Irwin, T. P. Ledlie, and W. Eakin. Mr. STRACHAN having signified his intention of accepting the call, was formally, with evident regret, released from the charge of First Ahoghill, and on Wednesday, May 16th, the reverend gentleman was installed as minister of Sandys St. Presbyterian Church. The installation service was followed by a dinner in the Victoria Hotel, and in the evening by a reception by the congregation in the Lecture Hall. At the dinner the former minister, Rev. J. Thompson, B.D., responded to the toast of the Derry Presbytery in a happy speech; while at the latter function the new minister was presented with a handsome gown by the ladies of the congregation, through Mr. D. Martin, J.P.
-- -- -- -- -- -- -- -- -- -- --
FIRE IN NEWRY WORKHOUSE.
THE main buildings of the Workhouse were completely destroyed by fire on the evening of the 7th of June last. The results were disastrous. The school-rooms, male and female infirm wards, and the officials' quarters were entirely destroyed. Notwithstanding the terrible excitement that prevailed, the inmates were safely removed, and not a life was lost nor accident occurred. Had there been anything like an adequate supply of water, the progress of the fire could have been stopped; but no provision whatever had been made for such an emergency, and the guardians have been generally and deservedly censured for their totally inexcusable neglect. The fire brigade and military were on the spot, but, in face of want of water, were powerless to extinguish the flames, which soon took a firm hold on the building, and burned with magnificent effect. The fire, it is alleged, arose from the over-heating of an oil stove, which was left lit in one of the official's rooms. The damage is estimated at £5,000. The entire Workhouse buildings are insured to the amount of £8,500. The proportion affected -- the burned portions -- will therefore entail a considerable loss. The re-building is now engaging attention; and it is hoped they will be erected on lines more in keeping with the better instincts of our age. The Workhouse was built in 1841, and the system then in force aimed at providing accommodation -- after the barrack pattern -- for great numbers, which included a large percentage of able-bodied. To-day, the object should be to provide for the poverty-stricken, infirm, and aged. The buildings were originally intended for 1,046 persons -- for half that number would be quite adequate now. At best, the system is a rotten one, and subject to abuses, which flaunt themselves in the face of helpless ratepayers and indifferent guardians openly, and it would be too much to expect that new ways will come with the new buildings; but it is hoped that at least the coming year will see an institution with some modern comforts -- habitable rooms, proper appliances, and humane arrangements -- instead of the big, draughty, rat-invested, bare, and utterly comfortless barn-like apartments which the visitor to the Newry Workhouse had to become accustomed to and tolerate.
-- -- -- -- -- -- -- -- -- -- --
SAD ACCIDENT.
IN June last a particularly regrettable accident occurred to a little lad named JACK GRIFFIN, about 9 years of age, son of Mr. Griffin, Caulfield Terrace, who is Messrs. Lever Brothers' representative in Newry. The little lad was in the act of crossing the street, to meet his father, who was passing along on the opposite side, when he was knocked down by an approaching horse and trap, sustaining injuries of a very serious character to his head and neck. He was picked up unconscious, and remained in that condition for weeks, and it was much feared death would ensue. The sympathy of the entire community was with his parents during the suspenseful time, and when, after a long and trying period, it became known that the boy showed signs of returning consciousness, great satisfaction was expressed, and hope of his ultimate recovery was entertained. This hope, we are glad to say, under Dr. S. E. Martin's and Dr. Crossle's skilful treatment, has been realized, and the little fellow is now "all right," and apparently none the worse for his very dangerous mishap.
-- -- -- -- -- -- -- -- -- -- --
ANOTHER ACCIDENT.
ANOTHER accident of a dangerous nature -- but fortunately not in this instance a very severe one -- befell another Newry lad, FRANK CROSSLE, son of Dr. Crossle. Indulging in the boy-like propensity of tree-climbing in the vicinity of Killeavy, he chanced to lose his hold and fell to the ground, coming in contact with a stone, which inflicted a somewhat serious injury. Slight concussion of the brain resulted, but under his father's treatment he progressed favourably and has quite recovered. The accident happened on 8th of September last.
-- -- -- -- -- -- -- -- -- -- --
WARRENPOINT LOYALTY.
WARRENPOINT was more alive to the importance of the Queen's visit than the rest of our immediate localities. The people subscribed for a Presentation Album for her Majesty, who graciously accepted the handsome souvenir. The Album contained photographs of the locality, bound in morocco, with the royal monogram in silver surrounded with shamrock. A beautifully illuminated page, by CUNNINGHAM BROS. (of London), formed the frontispiece.
-- -- -- -- -- -- -- -- -- -- --
DRAINAGE OF THE WEST WARD.
THE drainage of the West Ward continues to interest our town representatives. For the past decade this subject has been fertile of discussion; at last, however, it seems as if something more than talk is to result. It is estimated that the whole scheme will cost £4,700, but all need not be undertaken at once. It can be carried out in separate portions, and accordingly at a meeting of the N.U.C., September 24th, on the motion of Mr. T. P. Willis, seconded by Mr. M'Conville, it was decided to begin by having the work necessary on Canal Quay attended to without delay.
-- -- -- -- -- -- -- -- -- -- --
NEWRY NAVIGATION COMPANY.
THIS Company has had, on the whole, a prosperous year, paying its preference shareholders four per cent., and its ordinary shareholders one per cent. dividend. A sum of £600 has also been added to the Sinking Fund. This is not a bad record, when the alarming reductions in the registered tonnage of vessels is taken into account. While we write the town is discussing the desirability of forming a Harbour Trust, and it is hoped, whatever decision is arrived at, that such will be for the best interests of Newry.
-- -- -- -- -- -- -- -- -- -- --
NATIONAL SOCIETY FOR THE PREVENTION OF CRUELTY TO CHILDREN.
President, Mrs. Gartlan; Vice-President, Mrs. S. Smartt; Hon. Treasurer Ladies' Committee, Mrs. Barcroft; Hon. Secretary, Rev. S. C. Pinkerton, B.A. During the year the Society has been engaged quietly and unostentatiously in its practical work. Up to February last the cases attended to involved the welfare of 114 children -- 61 boys, 40 girls, and 13 babies. The average number of children in a family was 3.6, and the average weekly wage 22/2. Twelve children were known to be insured for £75! 214 visits of supervision were paid. We trust these few facts will be enough to arouse a still wider interest and support for the local branch of the N.S.P.C.C.
-- -- -- -- -- -- -- -- -- -- --
NEWRY VOLUNTEERS FOR THE SOUTH AFRICAN WAR.
DURING the past year the world watched with an interest bordering on amazement, the flocking to the Flag by the subjects of the Empire when its prestige was endangered. Great Britain's dictum is that no man shall have military service forced upon him -- a course which is in striking contrast to the conscription system of the Continent; and it certainly is something to be proud of, that never yet has this voluntary method of recruiting the army failed. The sons of the Frontier Town responded gallantly, and maintained her record well. She has never wanted for sons ready to take up the cause of those they consider oppressed. The old spirit which brought the Newry band of United Irishmen together -- that noble spirit which demands that Equity and Justice shall reign -- sprang to life, and sent a band of Volunteers to do and dare for what they deemed the Right. For its size and population Newry probably sent to the front a larger proportion than any other provincial town -- Messrs. HENRY THOMPSON, LESLIE MEARES, JIM CLELAND, TOM WALKER, J. H. WEIR, and I. G. M'CONNELL, who went as members of the Imperial Yeomanry. Messrs. GLENTON and KETTLE also went, and may be included in the contingent, for though not Newry men they resided here. Mr. Robert Martin (son of Dr. S. E. Martin), whose successes during his medical career in Edinburgh University were recorded in last year's OPEN WINDOW, volunteered his services to the medical department and was accepted, and Mr. Hunter Handcock is also to be included, although he reached the front as one of the New South Wales contingent. Messrs. Joseph and Ben Kernaghan and Alfred Hennessy were also serving under General Buller in the ranks of the gallant but ill-fated Irish Fusiliers, and these are but a few of the Newry men whose services, and in some instances, whose lives were given up to Queen and Country. (THE OPEN WINDOW of last year recorded the deaths of three Privates, and of Major E. W. Gray, R. A. M. C., and this year of Trooper T. Walker.)
====================================
Personalia.
1899.

NOVEMBER.
(28th). Distribution of Prizes in connection with the Newry Intermediate School, and Concert in the New Town Hall. Mr. H. Barcroft occupied the chair, and distributed the prizes.
Meeting of Ladies of Newry to institute a branch of the War Fund, in aid of Newry and District widows and orphans.
Visit of Lady Russell of Killowen and Honourable Miss Russell to Newry. Guests of Mr. Alex. and Mrs. Gartlan, Downshire Rd.
Half-yearly meeting of Co. Down G.O.L. in Newry. A resolution, embracing approval and admiration of the policy of the Government relative to South African affairs, recognition of the Colonial services, and an assurance of their (the Orangemen's) readiness to join the ranks, if need be, was passed unanimously.
Newry Model School -- Retirement of Miss O'Connell, head mistress, and appointment of Miss Auld, head mistress of Monaghan N.S., to vacancy.
-- -- -- -- -- -- -- -- -- -- --
DECEMBER.
Meeting of the N.S.P.C.C. Committee -- Mrs. Glenny, Altnaveigh House, President, in the chair.
Re-Adoption of the Compulsory Education Act by the N.U.C.
The 2nd Battalion North Staffords left Newry, amid great enthusiasm, en route for the front (Friday, December 29th).
-- -- -- -- -- -- -- -- -- -- --
1900.

JANUARY.
New year's day -- Letter from the Earl and Countess of Kilmorey to Chairman of the N.U C., expressing surprise that the inhabitants of Newry failed to raise a sum "at all worthy of its position and surroundings in aid of the wives and children of the brave men now serving their Queen and country in South Africa"; and suggesting "that a public meeting be called to open a subscription list, which, when closed, will remove the stain that has temporarily fallen upon the town." The Council decided to confine its attention to receiving subscriptions in the usual manner.
Compulsory Education Act, Newry -- School Attendance Committee appointed by the Commissioners of N.E. -- Revs. S. Smartt, M.A.; W. Wylie, J. Carlin, Adm., and Rev. W. Moore, B.D.; by N.U.C. -- Dr. M'Cartan, Messrs J. C. Nicholson, H. Loughran, and J. Treanor. Chairman -- Rev. J. Carlin; Vice-chairman -- Rev. W. Wylie. First meeting, January 12th. This Committee holds office for three years, Mr. Doherty, Town Clerk, was appointed secretary, at a salary of £50 a year.
At the Newry Quarter Sessions, before Judge Orr, Q.C., application for a new license for an old licensed house, 23 Mill Street, was refused. Head-constable Montgomery stated that there are about 50 public-houses within a radius of 300 yards, and in Mill Street itself -- which is a narrow street of about 250 yards -- there are six licensed houses. There are in Newry 115 publican licenses, 6 beer dealers, and 5 spirit grocers.
Newry Rowing Club Ball on Friday night, 12th. Boyle Brothers' string band supplied the music, and Messrs W, Scott and W. M. Cronin acted as Masters of ceremonies. Stewards -- Messrs Nicholson, J.P.; Dr. M'Cartan, J.P.; M'Arevey, J.P.; Watt, Connor, O'Hagan, M'Cann, Kettle, Ferris, Collins, O'Brien, Coghlan, O'Rourke, F. O'Hagan, Jun., Boden, Alderdice and O'Hare. Many Newry ladies combined to make the ball a success. Mrs. Boden and Mrs. M'Cann undertook the supper table, and Mrs. Sampson presided at the tea and refreshment tables, contributions being sent in by several friends -- including Mrs. A. M'Cann, Mrs. F. Fisher, Mrs. J. Fisher, Mrs. W. T. Ferris, Mrs. Cronin, Mrs. Warnock, Mrs. M'Clean, Mrs. Wright, Mrs. M'Cartan, Mrs. Charles O'Hagan, etc. The ball was an entire success, and the proceeds quite justified the hopes of the Club members that it would be the means of placing in hand a sum of money to remove the debt which has harassed the Club.
(19th). Sale of Shop and Premises, 13 Needham Place, formerly occupied by Mr. Thomas Boyd, deceased, and held under lease for 50 years from November 1st, 1881, at £45 per annum, to Mr. Bernard O'Hare, late of Water Street, for £1220. This house was formerly the residence of Mrs. Woods (nee Peacock). Mr. Boyd turned the premises into a shop as noted above.
-- -- -- -- -- -- -- -- -- -- --
FEBRUARY.
(7th). Public Sale of Shares in the Frontier Town S.S. Co., Ltd., and the Carlingford Lough S.S. Co., Ltd., on 9th. Purchasers: Mr. Jas. Sinclair, 35 £5 shares in the latter Co., at £9 per share; Mr. John Strain, 25 £5 at same price; Mr. Jas. Sinclair, 6 £50 shares in the Frontier Town, at £83 each; and Mr. F. Neville, 3 £50 shares at £86. Auctioneer, Mr. J. Toman.
(9th). Sale of House Property, recently known as "The Abbey," and formerly as Abbey Yard,* by which title it will be recognised by the majority of The Open Window readers. Standing on such a historic site, invests the house with a certain local interest, for Newry had its rise in the properly so-called "Abbey," many hundreds of years ago, and an amount of attention -- created by historic continuity -- will always centre round the locality so designated, and of which former numbers of The Open Window contain full particulars. The park and property, to which we now particularly refer, were purchased originally by the late Mr. Isaac Corry (a direct descendant of whom is the Mr. Isaac Corry whose portrait is included in our series of past-day familiar faces this year), and on it he built the residence and laid out the grounds lately sold. After Mr. Corry's decease Mr. John M'Cullagh, R.M., became the tenant, and after his death the late Mr. Robert Dempster became the purchaser, renovated and improved the house, and changed the title from "Abbey Yard" to the more pretentious one of "The Abbey." Mrs. Boden of Hill Street is now the owner, having purchased it as a residence for herself and family. The property includes a fine park of 10 or more acres, and is held under fee farm grants for ever.
*It has been pointed out to us by a member of the family of the original owner of all this property that the name "'The Abbey' is really a misnomer, and destroys the historical significance of the title, the site of 'The Abbey' having been further up Castle Street, where Doyle the seedman's shop stood."
Sale of the artizans' houses -- 7 in number, and known as Helen's Terrace -- and the land adjoining, measuring 24 acres, 2 roods, and 18 perches, formerly the property of the late Mr. Robert Dempster, to Mr. Rooney, Mountmills. The property is held under fee farm grant for ever at the rent of £2 6s. 7½d.
Mr. Alex. Gartlan elected to Chairmanship of the Quinn Charity Trust.
N.U.C. -- The Councillors who retired by rotation were:-- NorthWard -- Messrs J.Strain and J. Savage; South Ward -- Messrs H. Loughran and J. Rice; West Ward -- Messrs H. M'Caffrey and D. Rooney. In the North Ward only was there a contest, where Mr. D. Martin and Mr. C. Mark were nominated, in addition to the outgoing Councillor, Mr. Strain. The election resulted in the return of Mr. Mark (277) and Mr. Strain (186), and Mr. Martin received 122 votes.
(7th). Complimentary Supper by the R.I.C. (Hyde Market Station) to Head-constable Montgomery, upon his retirement from the force, after a service of 30 years.
-- -- -- -- -- -- -- -- -- -- --
MARCH.
Ordination of Dr. J. R. Gillespie, M.A., in Sandys Street Presbyterian Church, prior to his departure to China as medical missionary. Son of Mr. William Gillespie, Loan Bank.
The Irish Language -- Resolution supporting the Irish Language movement -- that Irish be taught throughout Ireland, under the National Education System, on the same lines as Welsh is taught in Wales -- passed unanimously by the N.U.C.
Resignation of Mr. J. Aiken, J.P. -- Chairman of the Newry Board of Guardians -- through ill health.
Presentation to Trooper Harry Thompson, Newry C.L.B., upon his leaving town to join the Ulster Imperial Yeomanry Volunteer Corps. Son of Mr. Jas. Thompson, Kildare St.
Departure of the 4th Battalion North Stafford Regiment for Queenstown, on the 8th, en route for the front. The regiment was most popular, and received an enthusiastic send-off.
Meeting of Independent National Club in the Club Rooms, Kilmorey Street, in celebration of St. Patrick's Day. Chairman -- Mr. D. Murtagh. This club is in a prosperous condition. Established in 1890 with a very small membership, they have now upwards of 200 names upon the roll.
-- -- -- -- -- -- -- -- -- -- --
APRIL.
(10th). General Meeting of the Clanrye Steamship Co, Ltd., Dr. Jas. Martin in the chair. The Report gave the working capital of the company as £4,000, and the gross earnings for the year £4,297, A dividend of 7½ per cent was passed. Mr. Fred. Ferris, Secretary, was present, as also the following among the shareholders -- Rev. R. E. Glenny, D.D., Warrenpoint; and Messrs. M. J. O'Hare, J. H. Russel (Newry), and John Harland, Bessbrook.
Annual Meeting of the Newry Rowing Club. Chairman -- Mr. John Fisher. The 28th annual report was presented. The following gentlemen were elected unanimously as office-bearers for the year:-- Captain, Mr. W. T. Ferris; Vice-Captain, Mr. P. J. O'Brien; Secretaries -- Messrs. A. O'Neill and F. Ferris; Treasurer, Mr. W. Scott, jun; Auditors -- Messrs. C. Warnock and Hennessy; Committee -- Messrs Barber, Rooney, Fisher O'Hare, A. Fisher, O'Hagan, and Hartigan.
Sad death of Mr. James Hegan (age 24) of Sheeptown, in the Newry Hospital, whilst having chloroform administered for an operation. At the inquest the following verdict was found:-- "The deceased, James Hegan, in the Rathfriland Hill Hospital, on the 13th April, 1900, came to his death from misadventure, owing to excitement and hear failure while under the influence of chloroform prior to an operation."
(11). Gaelic League -- Grand Concert, under the auspices of the Newry branch.
Sandys Street Presbyterian Church -- Annual meeting (25th), Mr D. Martin, J.P., presiding. The following is the report of the church funds presented:-- Stipend, £286 4s. 5d; Sustentation, £83 4s. 6d; Orphan Society, £33 10s. 3d; Missions, £531 5s. 6d; Missions, from Sabbath School, £24; Stevenson Students' Fund, £5; Poor Fund, Interest on, £9; Temperance, £3 10s Ordinary Sabbath Collections, £151 1s 9d; Received for use of Lecture Room, £4 8s; Church Improvements, per W. J. White, 10s; Total, £1,131 14s. 5d.
-- -- -- -- -- -- -- -- -- -- --
MAY.
Grand Concert in Town Hall (29th), organised by Mrs. Jas. M'Cann, in aid of the Armagh R.C. Cathedral Bazaar. Cardinal Logue was present.
-- -- -- -- -- -- -- -- -- -- --
JUNE.
Newry Board of Guardians -- Annual meeting on June 6th, in Workhouse. Mr. John Toman, J.P., was proposed as Chairman by Mr. P. O'Hare, and Mr. E. Kinney seconded. Mr. J. F. Small proposed, and Mr. M'Elroy seconded, that Mr. H. Loughran, J.P., be Chairman. The voting resulted in the election of Mr. Toman, by 35 to 20 votes. Mr. H. Loughran was appointed Vice-Chairman, and Mr. M'Elroy, Deputy Vice-Chairman.
Newry Rural District Council No. 1, (Co. Down) -- Annual meeting (June 6th), in the Workhouse. Mr. M. J. Magee unanimously elected Chairman for another year; and Mr. Stephen Toman, Vice-Chairman. The report showed that the Council came into office 6th April, 1899. Had held 37 meetings since, and has voted £4,300 for public works. Sanitary notices, numbering 238, were served during the year in the district and great improvement in sanitary matters effected. The Agricultural Bank was opened in Nov., 1899, and £370 had been lent out, up to date of report; an Agricultural Society and Creamery, in connection with this Council, will soon be in operation.
Newry Rural District Council No. 2, (Co. Armagh) -- Annual meeting (June 6th), in the Workhouse. Mr. Edward Kinney elected Chairman, and Mr. James M'Elroy, Vice-Chairman. The Clerk (Mr. W. Bell) read the report, from which it appears that the cost of maintenance of works passed by the Council during the year amounted to £5,600. No large works were undertaken, and the principal improvement which is occupying the Council's attention is the Poyntzpass Sewerage Scheme.
Proceeds of the late course of Gilchrist Lectures (£17 11s. 7d ) paid over to the N.U.C. in aid of the establishment of a Technical School in Newry.
Meeting on the 16th, in Old Town Hall, under the auspices of Newry No. 1 Rural District Council, for purpose of establishing a Creamery and local Flax Improvement Association.
(20th). Downshire Road Church Annual Choir Trip. Rendezvous -- King John's Castle, Carlingford.
St. Mary's and St. Patrick's Sunday-School Excursion. Rendezvous -- Greer's Farm, Newry.
Presentation by Newry Catholic Literary Club to Mr. M. J. O'Hare, of silver kettle and handsome china tea service.
(24th). Annual Excursion of the Sodality of the Holy Name, Dominican Church. Rendezvous -- Valley of the Boyne.
-- -- -- -- -- -- -- -- -- -- --
JULY.
Victory of the Newry Rowing Club Crew at the Dublin Metropolitan Regatta, on the 3rd. Competing Clubs:-- Shannon Rowing Club, New Ross Boat Club, Athlunkard Boat Club, Neptune Rowing Club, Dolphin Rowing Club, and Newry. Newry Crew:-- Messrs. A. Smith (bow), J. Rooney (2), J. Boyd (3), G. Allan (4), Walter Scott (5), P. J. O'Brien 5 (6), J. Fisher (7), Fred Ferris (stroke), with J. M'Guigan (cox). The win brings the Pembroke Cup to Newry.
Downshire Road Sunday-School Trip (3rd), to Narrow Water Demesne.
Mr. E. Kinney, Chairman N.R.D.C. (No. 2), sworn in as J.P. for Co. Armagh.
Mr. Jeffrey, Collector Of Customs, promoted to Aberdeen, and succeeded by Mr. Taylor of Cowes.
Sad death by drowning in Newry Canal, on 11th, of a youth (16), John Gill, who was employed in W. E. Redmond's timber yard. Son of Mr. John Gill, William St.
Meeting on 10th, in Town Hall, for purpose of starting Indemnity Fund to cover Rev. J. Rooney, C.C.'s law costs and damages, sustained by verdict in libel action, Fisher v. Rooney. Mr. P. G. Carvill in the Chair.
First Presbyterian Church (Unitarian) S. S. Excursion, to Rostrevor (25th).
N.U.C. -- Tender for constructing road and footways at Erskine Street artizan houses -- by Mr. D. Neary, builder, at £183 8s. -- accepted.
-- -- -- -- -- -- -- -- -- -- --
AUGUST.
First Public Display of the Newry C.B.B., in the Grain Market, Needham Street. Arrayed in their smart round caps. St. Patrick's blue sashes, and white haversacks, the brigade looked very fit. A band has been formed, which promises well.
Rev. H. B. Swanzy, B.A. (2nd son of late Rev. T. B. Swanzy), appointed to Curacy of St. Mary's, in succession to Rev. H. Todd, B.A., appointed Incumbent of Bessbrook.
-- -- -- -- -- -- -- -- -- -- --
SEPTEMBER.
(7th). Meeting of the Committee of the Newry, Keady and Tynan Railway scheme -- re proposed Harbour Trust.
Newry C.B.B. -- Instrumental Music Competition, Old Town Hail. Judges:-- Rev. E. M'Givern (President), Mr. T. Ruddy (conductor St. Joseph's Band), and Messrs. P. Cronin, Bennet, and M'Coy, lieutenants in the brigade. Results:-- Orchestral Competition -- 1st prize, Private F. M'Barron; 2nd, Corporal P. Collins; 3rd, Sergeant W. Ennis. Mouth Organ Competition -- 1st prize, private T. Gallagher; 2nd, private W. Hagan.
Change in hour of Divine Service, St. Patrick's Church, from 6 o'clock to 7. The change dates from Sunday, 16th.
-- -- -- -- -- -- -- -- -- -- --
OCTOBER.
Mr. P. G. H. Carvill returned as M.P. for Newry unopposed.
Newry Chamber of Commerce meeting (10th), decision on proposed Public Harbour Trust.
Newry District Nursing Society -- Presentation to Miss Hicks, Nurse, on her marriage. Miss Hicks was the first Queen's Nurse appointed here. She is succeeded by Miss Hogg, formerly of Derry.
C.B.B. -- Silver Medal for proficiency in the exercise -- presented by Lieut. Thompson -- won by Private Ferguson.
Messrs. John O'Hare & Sons awarded Certificate of Excellence for their Mineral Waters, at the Brewers' Exhibition, London.
The Royal Humane Society Testimonial, awarded to Constable Looby, R.I.C., for the rescue of a sailor from drowning on the 9th Sept, in the Canal.
N.U.C., Cheques for £1,086 (final instalment due Mr. Neary, for erection of Erskine Street houses), and for £249 18s. 6d. (due Mr. Watson, architect of same) -- issued on 22nd,
-- -- -- -- -- -- -- -- -- -- --
NOVEMBER.
(6th). Annual Prize Distribution, Concert and Dramatic Recital, in connection with the Christian Schools -- Rev. J. Carlin, Adm., presiding. Rev. Bro. Dempsey read the report, which disclosed the fact that these schools -- amongst the Catholic Intermediate schools of Ulster -- are second only to St. Columb's College, Derry.
-- -- -- -- -- -- -- -- -- -- --
Newry C.B.B. -- Lieut. P. M'Quaid to be adjutant of brigade. The brigade's title in future will be St. Colman's Batt. of the Dublin Brigade.
Retirement of Sergt. Kilcourse, R.I.C. -- After a quarter of a century's faithful service -- 20 years of which were spent here -- Sergt. Kilcourse retires on full pension. Mr. Kilcourse enjoyed the esteem of the entire community during his public office in Newry, and carries the same with him on his retirement. The magistrates and members of the legal profession have united in complimenting the Sergeant on his long record of duties efficiently performed, and were unanimous in the verdict of constant courtesy, eminent ability, and unflinching fidelity of service.
====================================
Educational.
GENERAL INTELLIGENCE.
Mr. A. D. M'Murray, of S. CONNOR & SONS, passed preliminary Exam. of Pharmaceutical Society, Dublin.
Mr. W. H. Brady passed for Clerkship in Bank of Ireland; son of Mr. ALLEN BRADY.
Mr. James H. Murphy, B.A., passed final Exam., and has been admitted a Solicitor of the Supreme Court of Judicature; son of Mr. JAMES MURPHY, Sugar Island.
Mr. George F. Alderdice passed the 3rd Professional Exam, in connection with the Royal College of Physicians and Surgeons, Ireland; son of Mr. G. F. ALDERDICE.
Mr. Thomas Cronin and Mr. R. Flood passed the first Exams, in Medicine, in connection with the Royal University, their clever answering entitling them to take part in the Examination for Honours; sons of Mr. P. CRONIN, Sen., Bridge Street, and of Mrs. FLOOD, Monaghan Street.
Mr. P. J. O'Hagan passed the Intermediate Exam, of Incorporated Law Society; . son of the late Mr. PETER O'HAGAN, Hill St.
Rev. W. E. Daly, B.A., of the Methodist Church, Newry, degree of LL.B. at the Royal University of Ireland Examinations.
Mr. George Watt, 2nd on the list of Scholars in Mathematical Science, at Exam., T.C.D., for Fellow and Scholarships.
Mr. Samuel J. Duncan, Senior Moderator, B.A., T.C.D., called to the Bar by the Lord Chancellor, in Court of Appeal, Dublin, in June last; son of Mr. SAMUEL DUNCAN.
Rev. J. Davison Cowan, LL.B., rector of Donaghmore, degree of LL.D., T.C.D.
At the Matriculation Exam, of the Royal University, Mr. S. Edgar Martin passed successfully; son of Dr. S. E. MARTIN, M.A., Sandys Place. Two of the St. Colman's College students also passed this Exam., Mr. Jas. Mulligan and Mr. David Sloan.
Mr. James A. Calter, successful in Exam. for Post Office Clerkship; son of Mr. JOHN CALTER, River Street.
Mr. Frederick Walker passed for Clerkship in Belfast Bank; son of Mrs. A. R. WALKER.
Miss A. N. (Nea) Martin, Ladies' Royal School, Raphoe, -- Junior Grade, -- passed in 7 subjects -- English, French, Euclid, Arithmetic, Domestic Economy, Drawing and Music.
ST. COLMAM'S COLLEGE.
As usual, the Violet Hill students are well to the front in the year's results.
ROYAL UNIVERSITY OF IRELAND.
M.A. DEGREE IN ANCIENT CLASSICS -- Charles O'Reilly.
MATRICULATION -- Thomas H. Cairns.
The University Classes in connection with this College were formed in 1896-1897, and the results since that time speak eloquently for the President (the Rev. PROFESSOR O'REILLY, M.R.I.A.), as the following from the R.U.I. lists will testify:--
| | | |
| --- | --- | --- |
| Matriculation. | 14 were presented. | 14 passed. |
| First Arts. | 6 " " | 5 " |
| Second Arts. | 2 " " | 2 " |
| B.A. Honours. | 1 " " | 1 " |
| M.A. Honours. | 1 " " | 1 " |
Exclusive of degree distinctions, we may add 2 first-class and 1 second-class honours, and 3 Exhibitions (Matriculation, 1st Arts, and 2nd Arts) were obtained.
INTERMEDIATE.
MIDDLE GRADE -- T. H Cairns, H. F. Gallagher, J. P. J. M'Givern, M. D. O'Neill, D. C. Toman.
JUNIOR GRADE -- P. D'Arcy, D. J. Hughes; over age, E. M'CORRY.
CHRISTIAN SCHOOLS, NEWRY.
Successes at the Intermediate Exams., 1900:
EXHIBITIONS.
JUNIOR GRADE -- £20 a year for three years -- Francis Goodfellow, Francis Kelly, and Patrick J. Collins.
PREPARATORY GRADE -- £20 -- P. McCann.
EXHIBITIONS RETAINED.
MIDDLE GRADE -- £20 a year for two years -- Frederick Walsh and Chas. M'Corry.
COMMERCIAL PRIZE (£5), JUNIOR GRADE -- John J. Ennis.
ITALIAN COMPOSITION PRIZE (£2), JUNIOR GRADE -- Francis Goodfellow.
PRIZES IN BOOKS.
MIDDLE GRADE -- Thomas J. Flynn, £3; Frederick Walsh, £1.
JUNIOR GRADE -- Peter Bennett, £3; John J. Ennis, £1.
HONOURS AND PASSES.
MIDDLE GRADE. -- Patrick Connolly. JUNIOR GRADE. -- Thomas M. Boyd, David Alexander Conlon, John Arthur Calter, James Francis Courtney, Wm. Ennis, Henry Joseph Lambe, Daniel Lennon, John M'Alinden, Francis Patk. M'Barron, Joseph, M'Laughlin, Arthur Dardis M'Manus, Patrick J. Murtagh, Hugh Patrick Quinn, Thomas James Rice, Francis Patrick M'Dermott.
A special feature of the successes of the Christian Schools has been the high marks won by a large number of the students in the Celtic Language and Literature.
PREPARATORY GRADE. -- Charles Diffan, Thomas Downey, Peter Larrissy, Patk. M'Cann, Patrick Joseph Molloy, Hugh Alphonsus Savage.
Thomas J. Flynn took highest local place in Middle Grade, and Francis Goodfellow in Junior Grade. Peter M'Cann took second local place in Preparatory Grade, and Patrick J. Collins took the maximum marks in Shorthand.
INTERMEDIATE SCHOOL.
MIDDLE GRADE -- Samuel D. Stoops -- 1st Class Book Prize, value £3. Mr. H. Gillespie -- 2nd Class Book Prize, £2. Samuel D. Stoops also retained his Exhibition of last year.
JUNIOR GRADE -- W. J. Stoops -- Book Prize, £1. Norman H. Martin, ditto, and Thos. J. Doherty, ditto.
PREPARATORY GRADE. -- Alfred C. Duncan an Exhibition of £20.
John W. Kelly, -- Junior Grade, -- Book Prize, value £1.
MIDDLE GRADE. -- Robert Agnew, Henry Gillespie, Samuel D. Stoops.
JUNIOR GRADE. -- Henry Crossle, Thos. J. Doherty Edward Foster, George A. Harbinson, Henry C. Lyons, RObert N. Lyons, William H. Marshall, Norman H. Marshall, William J. Stoops.
PREPARATORY. -- Alfred C. Duncan, Herbert W. A. Dwyer, W. S. Haydock.
Master Alfred Duncan, besides winning an Exhibition value £20, has this year carried off the two Gold Medals offered for competition in connection with the Newry Intermediate School -- viz., the Medal for highest marks in English, and the Stoops Gold Medal for best in Mathematics; son of Mr. SAMUEL DUNCAN, Braeside.
Mr. John A. Mills passed final for Medicine, Surgery, and Obstetrics -- viz., M. B., B.Ch., B.A.O. This young gentleman is also an A.B. of the Royal.
Mr. William Sloan Mills obtained a Research Scholarship in Chemistry, value £150 a year for 2 years; awarded in connection with Queen's College, Galway. His M.A. degree was conferred on the 26th of October; and it is also worthy of note, that this student's paper on the Results of Research Work in Organic Chemistry has been published by the journal of the Chemical Society.
The annual distribution of prizes in connection with these schools took place on December 7th, 1900.
LADIES' COLLEGIATE SCHOOL, 1900.
INTERMEDIATE.
MIDDLE GRADE. -- Mabel Abbott, Pass in 8 subjects; Honours in French, Music, and Domestic Economy. Ida Lyons, Pass in 6 subjects; Honours in French, Euclid, and Music.
JUNIOR GRADE. -- Jeannie Newell, Pass in 7 subjects; Honours in English, French, Drawing, Music, and Domestic Economy. Eva M'Bride, Pass in 7 subjects; Honours in French, Euclid, Music, and Domestic Economy. Dolly M'Crea, Pass in 7 subjects; Honours in French, Euclid, Drawing, and Music. Netta Fisher, Pass in 8 subjects; Honours in Euclid, Drawing, and Music.
PREPARATORY GRADE. -- Kathleen Booker, Pass in 6 subjects; Honours in English, French, Euclid, Algebra, and Drawing. Dolly Jeffery, Pass in 6 subjects; Honours in English, French, Euclid, Algebra, and Drawing. Harriet Stoops, Pass in 6 subjects; Honours in English, French, Euclid, and Algebra.
BOOK PRIZE, £1 -- Kathleen Booker.
MADAME TERNAU'S SCHOOL (WARRENPOINT).
INTERMEDIATE.
JUNIOR GRADE. -- EXHIBITION, £20 a year for 3 years -- Mina M'Williams. PASSES -- Marguerite B. Bannister, Lydia M'Kean, Nina M'Williams.
CONVENT OF MERCY SCHOOL.
JUNIOR GRADE. -- BOOK PRIZES VALUE £1 -- Mary. C. M'Manus, Louisa F. O'Sullivan. PASSES. -- Mary E. Bennett, Anna C. Garland, Elizabeth M'Conville, Mary C. M'Manus, Louisa P. O'Sullivan.
PREPARATORY GRADE. -- Mary R. Marron, Margaret Treanor.