Extract for the Congregation of Dublin, Lower Abbey Street
Surname
First Name
House
Address
Rank
Regiment, Battalion or Unit
Remarks
Armstrong
Reginald George


Beechfield House, Clontarf
Trooper
North Irish Horse
Killed in Action (CWGC)
Blyth
Robert
26
Wigan Road
Corporal
4th Royal Dublin Fusiliers


Burns
Hamilton
35
Smithville
2nd Lieutenant
1st Royal Dublin Fusiliers


Campbell
William
31
Finglas Road
Lieutenant
Royal Flying Corps
Killed in Action (CWGC)
Campbell
Andrew W.
31
Finglas Road
Lieutenant
12th Argyl & Sutherland Highlanders
Wounded
Carson
Robert
33
Bachelors' Walk
Gunner
S.S. "Ansonia"


Cook
John J.


Scotland
Corporal
10th Royal Dublin Fusiliers


Downing
John


Belfast
Lieutenant
10th Royal Dublin Fusiliers
Killed in Action
Eakin
Norman
75
Blessington Street
Signaller
Sig. Corps, 36th Div.


Eakin
Robert A.
75
Blessington Street
Sergeant
2nd Vic. T.B.


Earnshaw
Frederick
5
Hollybank, Drumcondra
2nd Lieutenant
Royal Irish Fusiliers


Earnshaw
W. V.
5
Hollybank, Drumcondra
Private
7th Hussars


Foggo
Robert


North Strand
Private
6th Dragoon Guards


Foggo
James


North Strand
C.C.
H.M.S. "London"


Foggo
William


North Strand
L. Corporal
2nd Batt. Irish Guards


Gilmore
Ross George


Kenilworth Square
2nd Lieutenant
6th Royal Dublin Fusiliers
Wounded
Grey
R. G.
102
Cabra Park
Trooper
21st Army Corps


Henderson
A. Victor
86
Botanic Road
Private
Argyl & Southerland Highlanders


Isaac
David H,


Leinster House
Private
7th Royal Dublin Fusiliers
Died (CWGC)
Jonston
D. Percy


Gracehall, Lurgan
2nd Lieutenant
Royal Garrison Artillery


Johnston
Ernest


Gracehall, Lurgan
2nd Lieutenant
South Staffords
Killed in Action
Johnston
Samuel


Cookstown
Sergeant
A/102 Brigade Royal Field Artillery
M.M.
Kerr
Thomas J.


Dublin
Private
6th Dragoon Guards
Wounded
Kinnear
C. Annesley


Albany Ho., Ranelagh
Lieutenant
Royal Field Artillery
Killed in Action
Laird
Alex.
39
St. Lawrence Road
Rifleman
15th Royal Irish Rifles


Lyons
J. V. B.


Clontarf
Corporal
A.P.O.


Manly
John


Trinity College
Sergeant
Royal Army Medical Corps


Marshall
Alex.


Dublin
Lieutenant
15th M.G. Co.


Merhette
Frank
82
Hollybank Road
Sergeant
5th Royal Irish Fusiliers


Miller
Jack
97
Phibsborough Road
2nd Lieutenant
11th Royal Dublin Fusiliers
Wounded
Miller
W. Robert


Lr. Gardiner Street
Private
10th Essex Regiment


Neill
R. G.


Londonderry
2nd Lieutenant
63rd I.B.D.


Pollock
Samuel A.
42
Mt. Pleasant Square
Private
Army Service Corps


Pollock
Robert
42
Mt. Pleasant Square
Driver
Royal Field Artillery


Shepherd
Alfred


Daisyhill, Co. Armagh
2nd Lieutenant
8th Royal Irish Fusiliers
Wounded
Shepherd
J. Mackay


Daisyhill, Co. Armagh
Lieutenant
173rd M.G. Co.


Scott
Leonard


Lr. Sackville Street
2nd Lieutenant
Royal Dublin Fusiliers
Killed in Action
Stewart
H. R.


Banbridge, Co. Down
2nd Lieutenant
6th Oxford & Bucks Light Infantry


Smith
James


Elm Park, Drumcondra
2nd Lieutenant
9th Gurkhas, Indain Army


Sinclair
Samuel
9
Dolphin Avenue
2nd Lieutenant
Royal Flying Corps


Thompson
R. M.


Delamere, Ballsbridge
Lieutenant
9th Delhi Inft., Indian Army
Wounded
Taylor
Robert
36
Claude Road, D'condra
Private
H.A.C.


Todd
W. P.


Cowper Gardens, Ranelagh
Private
5th Manchester Regiment


Warner
Albert


Molind Place, Dublin
Private
2nd Royal Dublin Fusilers
Wounded
Wilson
A. S.


Frankfort Avenue, Rathgar
2nd Lieutenant
7th Royal Dublin Fusiliers
Killed in Action
COLONIAL FORCES










Campbell
Duncan D.


Glasnevin
Private
S. African Regiment


Howe
Edward


Sandymount
Bugler
3rd Canadians
Wounded
Porter
Hubert D.
26
Rathdrum Road
Sergeant
31st Canadians
Wounded
Porter
John E.
26
Rathdrum Road
Private
10th Canadians
Wounded
Young
William


Fairview
Private
Canadian Highlanders
Killed in Action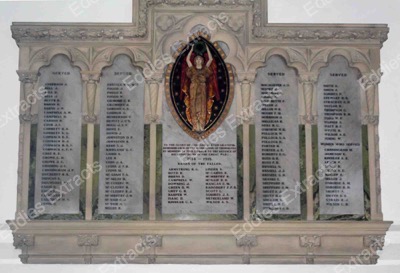 At the end of 1918 the congregation of Lower Abbey (Union Chapel) formed a union with that of Rutland Square forming the united congregation of Abbey in Parnell Square.

While the Roll of Honour lists the congregations separately, the memorial that was subsequently erected by the united congregation lists the members from both.

For a list of names from the memorial pictured see here



Image courtesy of Patrick Hugh Lynch.