HARBOUR SEAL.
The Corporation for Preserving and Improving the Port and Harbour of Belfast was created in 1785 (25 Geo. III c 64). At the first meeting of the members, held in the present Belfast Bank on 25th October, 1785, it was unanimously Resolved:
"That a Common Seal be provided for the Corporation with all convenient speed; that said Common Seal be made of Steel not quite the size of a Crown Piece, the figure of a Ship to be engraved in the centre; at top on the Margin the word BELFAST and on the margin underneath the words BALLAST OFFICE engraved in deep and legible characters; that an iron screw for pressing down said Seal be also provided; and that Mr. Black be requested to procure the same."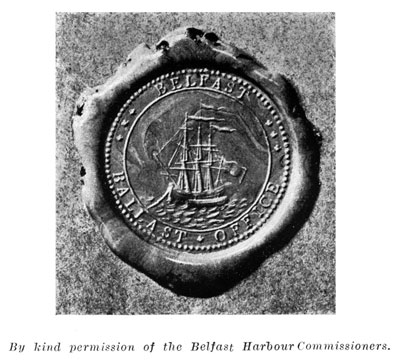 The Belfast Harbour Act, 1847, received the Royal Assent on 22nd June, creating the Belfast Harbour Commissioners, and on the following 29th July, Mr. Pirrie moved and Mr. McDowell seconded and passed unanimously:
"That the Secretary be authorized to procure with as little delay as possible a Seal for this Body of Commissioners, such Seal to be the same in every respect as that of the Old Corporation with the simple change of the legend into the words BELFAST HARBOUR COMMISSIONERS."